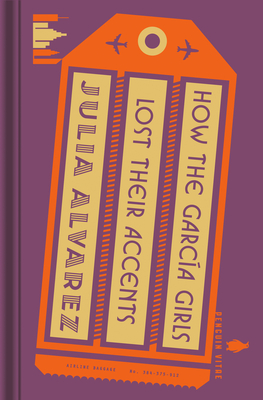 How the García Girls Lost Their Accents (Penguin Vitae)
Publication Date:
December 14th, 2021
Publisher:
Penguin Classics
Still North Books & Bar
1 on hand, as of Dec 10 2:12am
On Our Shelves Now
Description
A collectible hardcover thirtieth-anniversary edition of Julia Alvarez's modern Latinx classic that gives voice to four sisters as they grow up in two cultures, featuring a new foreword by New York Times bestselling, National Book Award–winning novelist Elizabeth Acevedo
A Penguin Vitae Edition
The García sisters—Carla, Sandra, Yolanda, and Sofía—and their family must flee their home in the Dominican Republic after the discovery of their father's role in an attempt to overthrow the brutal dictator Rafael Trujillo. They arrive in New York City in 1960 to a life far removed from their existence in the Caribbean. In the wondrous but not always welcoming United States, their parents try to hold on to their old ways as the girls try to find new lives: by straightening their hair and wearing American fashions, and by forgetting their Spanish. For them, it is at once liberating and excruciating to be caught between the old world and the new. In Julia Alvarez's beloved first novel, How the García Girls Lost Their Accents, the sisters tell their stories about being at home—and not at home—in America.
Penguin Vitae—loosely translated as "Penguin of one's life"—is a deluxe hardcover series from Penguin Classics celebrating a dynamic and diverse landscape of classic fiction and nonfiction from seventy-five years of classics publishing. Penguin Vitae provides readers with beautifully designed classics that have shaped the course of their lives, and welcomes new readers to discover these literary gifts of personal inspiration, intellectual engagement, and creative originality.
Praise for How the García Girls Lost Their Accents (Penguin Vitae)
"An honest, unflinching narrative that captures the misery, messiness, and marvel of departing from a homeland and making yourself and your family anew . . . Every single character is vibrant, in such a way that all of us longing to belong will find in the novel something that might teach us a bit more about ourselves, and our possibilities. . . . A generation of writers were empowered to pick up their pens after they first picked up this book. . . . [Alvarez] proved that our shared island and the people we come from have rich and nuanced stories that deserve to be told." ―Elizabeth Acevedo, from the Foreword
"Powerful . . . Poignant . . . Beautifully captures the threshold experience of the new immigrant." —The New York Times Book Review
 
"A clear-eyed look at the insecurity and yearning for a sense of belonging that are a part of the immigrant experience . . . Movingly told." —The Washington Post Book World
"Extraordinary." —The Bloomsbury Review
"Simply wonderful." —Los Angeles Times
"[A] tender, charming book . . . There is a charge to Alvarez's writing, a poetic intensity, that is truly original." —The Miami Herald
"A joy to read." —The Cleveland Plain Dealer

"The Hispanic Joy Luck Club . . . A luminous poem, rich and dreamy as a slow samba. A+." —Entertainment Weekly
"Delightful." —Cosmopolitan
"Subtle . . . Powerful . . . Reveals the intricacies of family, the impact of culture and place, and the profound power of language." —The San Diego Tribune
 
"Lovely and intimate." —The Houston Post
 
"Brilliant . . . A tour de force." —Commonweal
 
"One of the most delightful novels of the year." —San Francisco Chronicle
 
"Surprises us with vivid, poetic language." —The Philadelphia Inquirer
 
"Elegant and earthy . . . A distinctive new voice." —McCall's
 
"Heartwarming . . . It is a pleasure to read about these high-spirited Caribbean women." —San Antonio Express-News
 
"Refreshing . . . A remarkable climb up a family tree." —Baltimore City Paper
 
"[Alvarez] enchants the reader while spinning her web of wonder." —Richmond Times-Dispatch
 
"A warm and believable family portrait . . . Often hilarious." —Arkansas Gazette
 
"Spirited." —The Nation
 
"Exquisite . . . Alvarez makes magic and art of the human odyssey, finding wonder and faith amid the world's confusion and ignorance." —The Virginian-Pilot and Ledger-Star
 
"Delightful, original." —The Washington Times
 
"A kind of Dominican-American Little Women." —The Raleigh News and Observer
 
"An impressive talent . . . A tragicomic voice whose accent is happily her very own." —Fort Lauderdale Sun-Sentinel
 
"Alvarez writes with compassion, sensitivity and humor." —Roanoke Times and World-News
 
"Powerfully bittersweet." —The Arizona Daily Star
 
"Poignant and intimate . . . Alvarez delineates the two cultures with insight, humor and skill." —Albany Sunday Times Union
 
"Alvarez's prose is straightforward yet possesses an inner fire touched with poetry and a finely tuned sense of irony and quiet revelation." —The Memphis Commercial Appeal
 
"An expertly witnessed and daringly constructed novel." —The Tampa Tribune-Times
 
"Bright, entertaining and full-bodied." —The Oklahoma City Sunday Oklahoman
 
"The voices that reveal this world are honest, clear, and rich." —Winston-Salem Journal
 
"Alvarez manages to bring to attention many of the issues—serious and light—that immigrant families face, portraying them with sensitivity and, at times, an enjoyable, mischievous sense." —Kirkus Reviews
 
"This unique coming-of-age tale is a feast of stories that will enchant and captivate readers." —School Library Journal