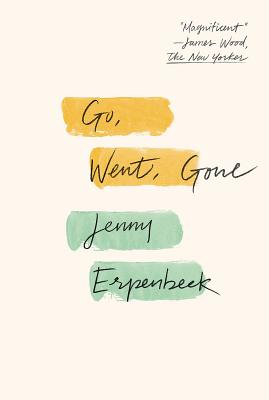 Go, Went, Gone
Publication Date:
September 26th, 2017
Publisher:
New Directions
Still North Books & Bar
1 on hand, as of Nov 28 2:12pm
On Our Shelves Now
Description
New York Times Notable Book 2018; Foreign Affairs Best Book of 2018; Lois Roth Award Winner
An unforgettable German bestseller about the European refugee crisis: "Erpenbeck will get under your skin" (Washington Post Book World)
Go, Went, Gone is the masterful new novel by the acclaimed German writer Jenny Erpenbeck, "one of the most significant German-language novelists of her generation" (The Millions). The novel tells the tale of Richard, a retired classics professor who lives in Berlin. His wife has died, and he lives a routine existence until one day he spies some African refugees staging a hunger strike in Alexanderplatz. Curiosity turns to compassion and an inner transformation, as he visits their shelter, interviews them, and becomes embroiled in their harrowing fates. Go, Went, Gone is a scathing indictment of Western policy toward the European refugee crisis, but also a touching portrait of a man who finds he has more in common with the Africans than he realizes. Exquisitely translated by Susan Bernofsky, Go, Went, Gone addresses one of the most pivotal issues of our time, facing it head-on in a voice that is both nostalgic and frightening.
Praise for Go, Went, Gone
A retired widower and classics professor takes an interest in African migrants staging a hunger strike in Berlin and finds himself tumbling into a world of harrowing stories and men who share a common sense of loss.
— Boston Globe
This brilliantly understated novel traces with uncommon delicacy and depth the interior transformation of a retired German classicist named Richard. Erpenbeck possesses an uncanny ability to portray the mundane interactions and routines that compose everyday life, which she elevates into an intimately moving meditation on one of the great issues of our times. Her economical prose lends existential significance to the most commonplace conversations, defined less by what they include than by what they omit.
— Andrew Moravcsik - Foreign Affairs
The plight of asylum seekers as told through a retired university professor...Very moving.
— Carol Morely - Guardian
Beautifully haunting.
— Interview Magazine
This timely novel brings together a retired classics professor in Berlin and a group of African refugees. The risk of didacticism is high, but the book's rigor and crystalline insights pay off, aesthetically and morally.
— The New York Times
A highly sophisticated work.
— Kate Web - The Spectator
Calls to mind J.M. Coetzee, whose flat, affectless prose wrests coherence from immense social turmoil. By making the predicament of the refugee banal and quotidian, Erpenbeck helps it become visible.
— Sam Sacks - The Wall Street Journal
The best novel to date about the migration refugee crisis, German novelist Jenny Erpenbeck's Go, Went, Gone (New Directions) felt both urgent and tender, taking on depicting Europe on the brink of its next profound change—as seen through the eyes of a professor from Berlin's former East, a man who knows something of what it means to lose one's place in the world.
— Megan O'Grady - Vogue
Erpenbeck's prose, intense and fluent, is luminously translated by Susan Bernofsky.
— James Wood - The New Yorker
Wonderful, elegant, and exhilarating, ferocious as well as virtuosic.
— Deborah Eisenberg - The New York Review of Books
This new novel by the author of The End of Days and Visitation is full of departures and disappearances. It is both a gripping story about the life of the modern migrant and a meditation on how we all find meaning in life.
— The Guardian
Erpenbeck works with a dramatist's impulse to extremes and a composer's ear for the resonant phrase. She can catch a murmur on the air and send it echoing up and down a hundred tormented years. Go, Went, Gone tackles an issue that's made headlines—namely, the plight of African refugees in Europe. It clearly engaged this author like nothing before. A fresh career benchmark.
— Bookforum
Erpenbeck is scathing about the absurdities of a nightmarish bureaucracy that appears to deliberately wrongfoot refugees. Deceptively unhurried, yet undeniably urgent, this is Erpenbeck's most significant work to date.
— Financial Times
Dreamlike, almost incantatory prose.
— Vogue
Acclaimed German novelist Jenny Erpenbeck has gone further than most in examining the ephemeral nature of human life. A heart-rending plea for universal tolerance and respect.
— Anthony McGowan - The Big Issue
An extraordinary novel, bearing unflinching testament to history as it unfolds.
— Neel Mukherjee - The New Statesmen
A nuanced depiction of people who have largely given up the luxury of
hope and have little to do but wait. Erpenbeck bluntly reminds readers
what is at stake for Germany and, by extension, the world. A timely,
informed, and moving novel of political fury.
— Brendan Driscoll - Book List