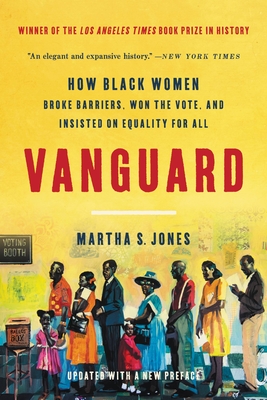 Vanguard: How Black Women Broke Barriers, Won the Vote, and Insisted on Equality for All
Publication Date:
December 7th, 2021
Available in 3-7 business days
Description
"An elegant and expansive history" (New York Times) of African American women's pursuit of political power—and how it transformed America   
 
In Vanguard, acclaimed historian Martha S. Jones offers a new history of African American women's political lives in America. She recounts how they defied both racism and sexism to fight for the ballot, and how they wielded political power to secure the equality and dignity of all persons. From the earliest days of the republic to the passage of the 1965 Voting Rights Act and beyond, Jones excavates the lives and work of Black women—Maria Stewart, Frances Ellen Watkins Harper, Fannie Lou Hamer, and more—who were the vanguard of women's rights, calling on America to realize its best ideals.   
  
Now revised to discuss the election of Vice President Kamala Harris and the vital contributions of Black women in the 2020 elections, Vanguard is essential reading for anyone who cares about the past and future of American democracy. 
Praise for Vanguard: How Black Women Broke Barriers, Won the Vote, and Insisted on Equality for All
"Jones has written an elegant and expansive history of Black women who sought to build political power where they could.... Jones is an assiduous scholar and an absorbing writer, turning to the archives to unearth the stories of Black women who worked alongside white suffragists only to be marginalized."—New York Times
"In her important new book, Jones shows how African American women waged their own fight for the vote, and why their achievements speak mightily to our present moment as voters, regardless of gender or race."—Washington Post
"If you read no other book on suffrage this centennial of the 19th Amendment, read this one. Let the incomparable historian Martha S. Jones take you to school."—Ms.
"Jones' book is a welcome addition to the spate of books on woman suffrage that have been published this year in honor of the Centennial of the Nineteenth Amendment. Through her rigorous scholarship and out‑of‑the‑box perspective, she sheds new and important light on the crucial role of Black women in winning and ensuring the right to vote…Jones' scholarship addresses a gaping hole in suffrage literature."—New York Journal of Books
"Thanks to Martha Jones's Vanguard, Black women's rightful place in this history has been restored."—Foreign Affairs
"In her forceful and compelling history, Johns Hopkins professor Jones corrects and enriches the conventional narrative of the noble suffrage crusade led overwhelmingly by white women with the determined and strategic efforts by Black women to build their own movement to win the rights that had been denied them."—National Book Review
"A necessary, insightful book that shines light on Black women underexplored in history. Jones writes narrative  nonfiction at its best."—Library Journal
"Highly charged, absorbing reading and most timely in the era of renewed advocacy for civil rights."—Kirkus
"Martha Jones is the political historian of African American women. And this book is the commanding history of the remarkable struggle of African American women for political power. The more power they accumulated, the more equality they wrought. All Americans would be better off learning this history and grasping just how much we owe equality's vanguard."—Ibram X. Kendi, National Book Award-winning author of Stamped from the Beginning and How to Be an Antiracist
"In her inspiring new book, Vanguard, renowned historian Martha S. Jones gives us a sweeping narrative for our times, grounded in the multi-generational struggle of black women for a freedom and equality that would not only fulfill their rights but galvanize a broader, redemptive movement for human rights everywhere. Through the carefully interwoven stories of famous and forgotten African American women, together representing two hundred years of history, Jones shows how this core of our society -- so key to winning elections today -- also gave us 'the nation's original feminists and antiracists.' From organizers and institution builders to preachers and writers, journalists and activists, black women found ways to rise up through the twin cracks of race and sex discrimination to elevate democracy as a whole. At a moment when that very democracy is under assault, Vanguard reminds us to look for hope in those most denied it."—Henry Louis Gates Jr.
"Bold, ambitious, and beautifully crafted, Vanguard represents more than two hundred years of Black women's political history. From Jarena Lee to Stacey Abrams, Martha S. Jones reminds her readers that Black women stand as America's original feminists -- women who continue to remind America that it must make good on its promises."—Erica Armstrong Dunbar, author of Never Caught and She Came to Slay
"You cannot tell the history of modern democracy without the history of Black women, and vibrating through Martha Jones's prose, argument, and evidence is analysis that takes Black women seriously. Vanguard brilliantly lays bare how a full accounting of black women as powerful political actors is both past and prologue. Martha Jones has given us a gift we do not deserve. In that way she is as bold and necessary to our understanding of ourselves as the women in this important work."—Tressie McMillan Cottom, author of Thick: And Other Essays