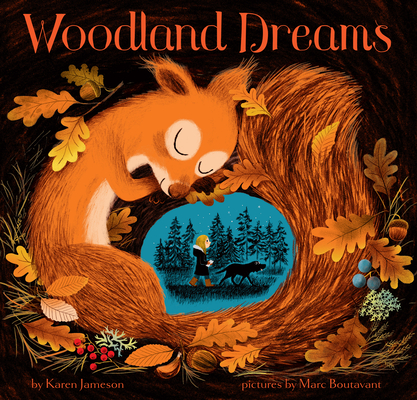 Woodland Dreams
Publication Date:
October 27th, 2020
Publisher:
Chronicle Books
Available in 3-7 business days
Description
In Woodland Dreams, young readers say goodnight to beloved woodland animals as they prepare to sleep.
This sweet bedtime book is at once a picture book and a lullaby, pairing familiar bedtime routines with nonfiction elements.
Little ones will follow along as each animal returns to their warm and cozy woodland home.
• Each adorable animal has their own special nighttime routine.
• Charming illustrations by celebrated artist Marc Boutavant
• Each animal is presented in an approachable, sleep-affirming way.
And once every creature is tucked in tight, shhh . . . It's time for everyone to say goodnight.
From the fox curling up in her den to the turtle dozing off in his shell, Woodland Dreams will send your little one off to sleep with a gentle and loving goodnight.
• The lyrical text is perfect for bedtime read-alouds, engaging little readers with beautiful illustrations and a cozy rhyming narrative.
• Ideal for children ages 3 to 5 years old
• Resonates year-round as a go-to gift for toddler birthdays, holidays, and more
• Perfect for parents, grandparents, and caregivers
• Add it to the shelf with books like Time for Bed by Mem Fox, The Goodnight Train by June Sobel, and If Animals Kissed Good Night by Ann Whitford Paul
 
Praise for Woodland Dreams
The book's lovely illustrations have a somnolent effect: as the girl runs through twilight settings, snow starts to fall; pinking skies peek through the dark branches, and adorable animals close their eyes to meet the quiet. Soon, it's time for dreams to swirl."—Foreword Reviews, starred review
"A sonorous, soporific invitation to join woodland creatures in bedding down for the night. . . . Jameson displays a rare gift for harmonious language and rhyme. . . . Sweet fare for bed- or naptimes, with a light frosting of natural history."—Kirkus Reviews, starred review
"A gorgeous ode to curling up for the night, this is the second book from the author Karen Jameson, a rising bedtime specialist who previously wrote "Moon Babies" and whose next book will be titled "Farm Lullaby." Here, each critter is given a sweet nickname and called to bed with a doubled couplet. . . . [I]llustrator Marc Boutavant's] sunset-to-twilight palette is rich. . . his compositions suggest girl, dog and fauna are all part of a larger, interwoven whole. Just lovely."—The New York Times
"[A] classic-feeling narrative that features graceful verse and detailed artwork. . . [Woodland Dreams is a] cozy goodnight read for sleepy animal lovers."—Publishers Weekly