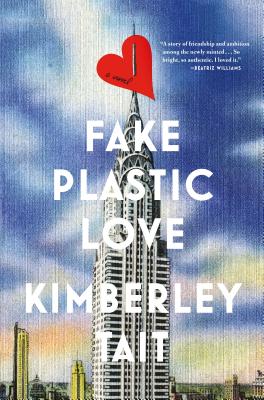 Fake Plastic Love: A Novel
This product is not returnable.
Publication Date:
May 8th, 2018
Publisher:
Flatiron Books
Available in 3-7 business days
Description
"A keen, exuberant, unexpected story of friendship and ambition among the newly minted…I loved it." —Beatriz Williams, New York Times bestselling author of A Hundred Summers
Four bright young graduates charge into the real world with all the unfounded confidence of twenty-two.
M., our narrator, is one of the few young women at her prestigious investment bank, who insists she will always prefer her signet ring to any diamond.
Belle is M.'s college best friend, a whimsical romantic who escapes into the pretty world of her viral blog when tragedy strikes.
Chase is Belle's British-American on-again, off-again boyfriend. Equal parts fraternity bro and Savile Row, he is M.'s colleague and arch nemesis.
Jeremy is M.'s new friend, an earnest, modern-day Gatsby, who would rather be piloting a hot air balloon than stuck behind his Wall Street desk.
As they are pulled deeper into their new lives, style and substance—and dreams and reality—increasingly blur. In this fake plastic world, what do success and happiness and love even look like?
Praise for Fake Plastic Love: A Novel
New York Post Best Books of Summer
amNewYork Summer Beach Reads
"Kimberley Tait presents a truly charming story in the manner of F. Scott Fitzgerald, balancing that essential line between light and complex…Tait writes with such deftness and clarity…and balances this with a writing style that delightfully dances off the page – like a perfect glass of champagne."
—The New Potato
"Fake Plastic Love by Kimberley Tait is that summer book that will delight you and lead to many cocktail hour discussions with friends, champagne in hand…I immediately felt like I was back in a similar period in my own life."
—Quarterlane
"Fake Plastic Love dives into the depths of the digital age and the cost of a healthy work/life balance…The book encourages readers to step away from the screen in order to invest in the lives of those living and breathing around them."
—Associated Press

"Beautiful…Insightful… Fans of Gatsby will surely enjoy Fake Plastic Love, but Tait puts a new spin on an old story that will still leave readers feeling surprised with each page they turn."
—The Dartmouth
"With a title just begging to be a beach read, this novel following Ivy League grads moving to Manhattan (fans of The Futures will enjoy this one) offers a new, eloquently written take on a tale so many New Yorkers are already familiar with."
—amNewYork (Summer Beach Reads)
"With sweeping nods to Fitzgerald and other writers of the Gilded Age, Tait's debut novel sparkles with vitality and conscience…Fluid, graceful, and unfaltering prose highlights this remarkable novel; relatable characters and themes complete the package."
—Publishers Weekly
"Relatable…A painfully accurate portrayal of the disillusionment and disappointment that many twentysomethings experience after college, this is a classic coming-of-age story."
—Library Journal

"With lively, illustrative tones reminiscent of yesterday's writers, Kimberley Tait captures the pain and beauty of post-college life as her colorful, ambitious 20-something characters test their terrifying new adulthood and find their place in today's world. This book is dreamy, factual, sad, and funny. It's a dose of unsweetened cranberry juice, a reminder of the world's conflicting, beautiful, and heartbreaking messages."
—Maureen Sherry, author of Opening Belle
"Kimberley Tait spins a keen, exuberant, unexpected story of friendship and ambition among the newly minted, and can she write. Fake Plastic Love is packed with those telling details, those neat twists, those perfect turns of phrase that keep you gasping right through to the end. So bright, so authentic. I loved it." —Beatriz Williams, New York Times bestselling author of A Hundred Summers and A Certain Age
"Kimberley Tait's debut novel is a funny, big-hearted peek inside our new gilded age. She nails the details of modern-day Wall Street, capturing the glamour, the cutthroat competition, and, ultimately, the futility of putting money first."
—Kevin Roose, New York Times bestselling author of Young Money
"Kimberley Tait's debut is a terrific New York book—it's stylish and substantive, old-fashioned and entirely modern. Her writing brims with wit and whimsy. A summer read to be savored!"
—Cristina Alger, author of The Darlings
"The market has already crashed, the economy has contracted, but 'Where there is hope,' as Kimberley Tait's recently graduated narrator says, 'there is opportunity to be carved out.' Like The Great Gatsby and Bright Lights, Big City, Fake Plastic Love examines one innocent's unsentimental education with great energy and panache."
—Stewart O'Nan, author of West of Sunset
"A captivating mix of eras (Cole Porter meets Lenny)…Writing with verve, confidence, and no shortage of wit in her sparkling debut, Kimberley Tait uses the relationship between two very different young women as the intriguing centerpiece of a timeless story that manages to entertain even as it vivifies the certain perils of performing your life rather than living it."
—Elizabeth Kelly, author of The Last Summer of the Camperdowns