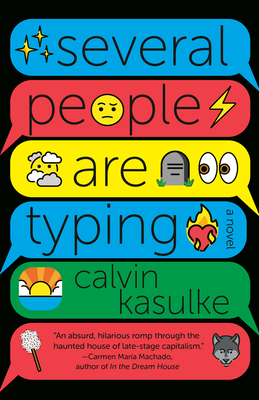 Several People Are Typing: A Novel (Good Morning America Book Club)
Publication Date:
September 27th, 2022
Still North Books & Bar
1 on hand, as of Dec 10 2:12am
On Our Shelves Now
Description
A Good Morning America Book Club Pick! • A work-from-home comedy where WFH meets WTF. • "An absurd, hilarious romp through the haunted house of late-stage capitalism." —Carmen Maria Machado, author of In the Dream House
 
Told entirely through clever and captivating Slack messages, this irresistible, relatable satire of both virtual work and contemporary life is The Office for a new world.

Gerald, a mid-level employee of a New York–based public relations firm has been uploaded into the company's internal Slack channels—at least his consciousness has. His colleagues assume it's an elaborate gag to exploit the new work-from home policy, but now that Gerald's productivity is through the roof, his bosses are only too happy to let him work from ... wherever he says he is.
 
Faced with the looming abyss of a disembodied life online, Gerald enlists his co-worker Pradeep to help him escape, and to find out what happened to his body. But the longer Gerald stays in the void, the more alluring and absurd his reality becomes. Meanwhile, Gerald's colleagues have PR catastrophes of their own to handle in the real world. Their biggest client, a high-end dog food company, is in the midst of recalling a bad batch of food that's allegedly poisoning Pomeranians nationwide. And their CEO suspects someone is sabotaging his office furniture. And if Gerald gets to work from home all the time, why can't everyone? Is true love possible between two people, when one is just a line of text in an app? And what in the hell does the :dusty-stick: emoji mean?
 
In a time when office paranoia and politics have followed us home, Calvin Kasulke is here to capture the surprising, absurd, and fully-relatable factors attacking our collective sanity ... and give us hope that we can still find a human connection.
Praise for Several People Are Typing: A Novel (Good Morning America Book Club)
A Good Morning America Book Club Pick • A Financial Times Best Science Fiction Book of 2021 • A New Scientist Best Book of 2021 • A Vox Staff Recommendation
"An absurd, hilarious romp through the haunted house of late-stage capitalism." --Carmen Maria Machado, author of In the Dream House and Her Body and Other Parties
"Several People Are Typing is fun, funny, addictive, and surreal…I blazed through it in an hour, came up for air, and then immediately blazed through it again."--The New Yorker

"An existential romp with a wicked sense of humor, Calvin Kasulke's debut novel is a Greek chorus of modern strife, a workplace of woebegone souls. It asks the important questions, like what it means to be a person, but also, what it means to be a gif. Several People Are Typing is a dirge for bureaucracy told by one of the funniest new writers @here." --Hilary Leichter, author of Temporary
"Truly original." --Esquire
"[An] extremely meta debut novel that feels like just the right amount of triggering after working from home for the last 17 months." --Nylon

"Several People Are Typing is the first novel I've read that feels written of, about, and inside the internet. With cursed spreadsheets, pregnant lizards, backchannel smack-talk, :dusty_sticks:, and the creepiest gifs in American literature, Calvin Kasulke doesn't just commit to the bit; the bit commits to him. If you've ever felt imprisoned by work, the internet, or your mortal body, buy this book twice." --Tony Tulathimutte, author of Private Citizens

"Calvin Kasulke knows what makes a spooky story good. Questions like: Is that thing real? Is he possessed? What otherworldly realm is this? Where are those wolves howling from? And the scariest: Did I reply-all? Finding human connection in disembodied Slack chat, Several People Are Typing makes the impossible seem possible." --Helen Ellis, bestselling author of American Housewife and Bring Your Baggage and Don't Pack Light

"Rife with office humor, Internet speak, and sharp criticisms of capitalism, Kasulke's extremely online debut novel is composed entirely of Slack messages." --The Millions, "Most Anticipated Books of 2021"

"A brilliant, laugh-out-loud funny slice of unglued genius about the triumphs and tyranny of the online workplace. Deliciously weird and wonderfully real, Several People Are Typing is a must-read for anyone who's ever suspected that the people on the other side of the screen are not all there." --Max Barry, bestselling author of Lexicon and Providence

"Several People Are Typing is a winsome, light-footed book with deceptive staying power. It operates in the scale of the morning meeting, the memo, the brief aside, the 'are you kidding me' request for clarification, the of-the-moment decision of where to go for after-work drinks or whether and when to fall in love. Kasulke retains an unerring instinct for callbacks and repetition, never wearing out a single joke's welcome, instead establishing a rich archive of possible pasts to reference. The book runs on those little economies of attention and care that managed to make me miss working in an office." --Daniel Lavery, bestselling author of Texts From Jane Eyre and Something That May Shock and Discredit You, and writer of Slate's "Dear Prudence" column
"Here it is, folks! The novel about the clusterf$%# that is working from home when the world's on fire (sometimes literally). Several People Are Typing is dark, witty, and, yes, more than a little Kafka-esque. Guaranteed to cause several people to be typing in your book club group chat." --Book Culture, "Most Anticipated Books of August"

"I loved Calvin Kasulke's debut novel. It wears weighty themes - surveillance and robot takeovers - so lightly and somehow manages to be touching and funny, as well as eerie and prescient. So easy to read, too. A seriously original book in both form and content." --Pandora Sykes, author of How Do We Know We're Doing It Right?
"An absolute joy—an ensemble-driven existential horror slash comedy consisting entirely of Slack transcripts. . .Kasulke does an incredible job of capturing the voices of each different employee at the PR firm, rendering thoughtful details all the way down to the cadence of their emoji use." --Boing Boing, "Someone wrote an existential horror comedy set entirely in Slack and it's great"
"Do you know how weird it looks to (1) read a book on the Philly bus and (2) laugh out loud at the book you are reading on the Philly bus? This book did that to me." --TechCrunch 2021 Gift Guide
"Calvin Kasulke is a master of the literary stunt. . .In his debut, a novel that could not be more perfect for a year defined by work from home culture, Kasulke sticks the landing of a trick all his own.." --Electric Literature, Best Novels of 2021
"Gloriously inventive. . .Reminiscent of the perfectly realized drudgery of Joshua Ferris' Then We Came to the End (2006) and the gothic happenings of David Foster Wallace's The Pale King (2011), this is a workplace comedy that brilliantly captures the era of remote work. . .A poignant depiction of the always-on nature of the contemporary workplace. Kasulke's ear for dialogue is remarkable as he truly captures the injokes, asides, and odd language of Slack communication. Funny, relatable, and incredibly timely, this is a hugely entertaining debut." --Booklist, *starred review*