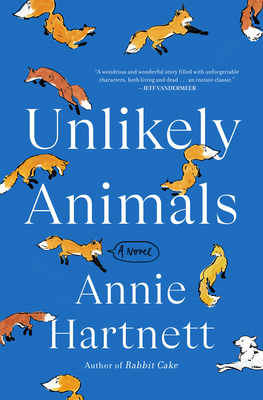 Unlikely Animals: A Novel
Publication Date:
April 12th, 2022
Publisher:
Ballantine Books
Small-town residents — dead, alive, missing, and four-pawed — are the heart of this unforgettable novel of Emma's quarter-life and family crises. Hartnett's quirky humor makes dark stuff feel manageable, a skill we need these days.
April 2022 Indie Next List
Description
"This tragicomic novel is heartfelt, touching, and delightfully quirky. You'll fall in love with the offbeat cast of characters (both living and dead) and find yourself rooting for them right through the last page."—Good Housekeeping (Book Club pick)
A lost young woman returns to small-town New Hampshire under the strangest of circumstances in this one-of-a-kind novel of life, death, and whatever comes after from the acclaimed author of Rabbit Cake.
ONE OF THE BEST BOOKS OF THE YEAR: The Washington Post, Book Riot • Longlisted for the Joyce Carol Oates Prize
It was a source of entertainment at Maple Street Cemetery. Both funny and sad, the kind of story we like best. 

Natural-born healer Emma Starling once had big plans for her life, but she's lost her way. A medical school dropout, she's come back to small-town Everton, New Hampshire, to care for her father, who is dying from a mysterious brain disease. Clive Starling has been hallucinating small animals, as well as having visions of the ghost of a long-dead naturalist, Ernest Harold Baynes, once known for letting wild animals live in his house. This ghost has been giving Clive some ideas on how to spend his final days.
Emma arrives home knowing she must face her dad's illness, her mom's judgment, and her younger brother's recent stint in rehab, but she's unprepared to find that her former best friend from high school is missing, with no one bothering to look for her. The police say they don't spend much time looking for drug addicts. Emma's dad is the only one convinced the young woman might still be alive, and Emma is hopeful he could be right. Someone should look for her, at least. Emma isn't really trying to be a hero, but somehow she and her father bring about just the kind of miracle the town needs.
Set against the backdrop of a small town in the throes of a very real opioid crisis, Unlikely Animals is a tragicomic novel about familial expectations, imperfect friendships, and the possibility of resurrecting that which had been thought irrevocably lost.
Praise for Unlikely Animals: A Novel
"A quirky, poignant novel about family, community and love for our animal friends."—The Washington Post
"This is a big novel doing big things. It bears some similarity to Hartnett's much- loved first novel, Rabbit Cake. . . . But Unlikely Animals is a broader, brassier, and even more fiercely tender story. In this, her second novel, Hartnett lands an astonishing leap as a storyteller."—The Rumpus
"Wistfully charming . . . This unapologetically genre-bending tribute to life and death, and the beautiful weirdness found in both, has potential to spark exceptional book club discussions."—Shelf Awareness

"A beguiling, big-hearted story about life and death and what really matters in the end. . . . There is no way you will not love this instant classic."—Bookreporter
"Unlikely Animals possesses such tenderness and empathy for a world that wears us down and ruins us, a world that sometimes offers a glimmer of hope, and Hartnett knows how to turn up the brilliance of that light and wield it to do magical things."—Kevin Wilson, New York Times bestselling author of Nothing to See Here and The Family Fang

"I devoured Annie Hartnett's Unlikely Animals. She's created a beautiful menagerie set inside a troubled household and their small New Hampshire town; a delightful mess of tenderness, grief, and despair, but most important, hope."—Kristen Arnett, New York Times bestselling author of Mostly Dead Things and With Teeth

"A wondrous and wonderful story filled with unforgettable characters, both living and dead. An instant classic that will make you question reality even as you embrace a town with a unique relationship to nature and miracles." —Jeff VanderMeer, New York Times bestselling author of the Southern Reach trilogy
"A riotous, joyful, hilarious romp with the wild and the tamed, the living and the dead, Unlikely Animals is both a love letter to John Irving and a literary accomplishment in its own right . . . Unlikely Animals is a triumph."—Rufi Thorpe, author of The Knockout Queen, finalist for the PEN/Faulkner Award

"Unlikely Animals is a large-hearted story populated by an original and amiable cast of characters—human, animal, spirit—about living, dying, and all the messiness in between."—Rachel Khong, author of Goodbye, Vitamin

"Annie Hartnett's second novel, Unlikely Animals, is striking and richly imagined, with a voice that is wholly its own. . . . The magic of Hartnett's novel stems from the balance of these weighty topics with the story's intrinsic playfulness."—BookPage (starred review)
 
"Hartnett masterfully balances a story of deep loss with the perfect amount of hilarity and tenderness."—Booklist (starred review)

"An absurdist, laugh-out-loud family drama about intergenerational healing."—Kirkus Reviews