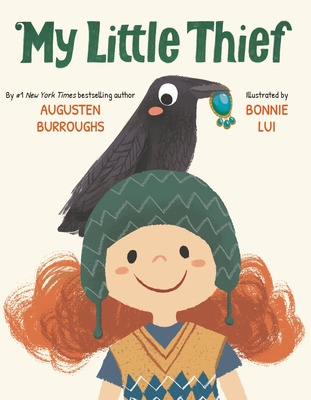 My Little Thief
Publication Date:
March 7th, 2023
Publisher:
Christy Ottaviano Books
Still North Books & Bar
1 on hand, as of Dec 2 2:12pm
On Our Shelves Now
Description
Mischief and everyday magic combine in this unforgettable story of friendship between a curious girl with a rich imagination and a winged thief with a very big heart. 
Chloe loves many things—bugs, the dark, and especially broken or forgotten objects. But she doesn't seem to care for birds. When a mischievous crow appears in her backyard, Chloe steps out of her comfort zone and offers the curious creature a bite of her lunch. In return, Crow brings Chloe a beautiful button.  Inspired by a true account of an unexpected friendship between a young girl and a crow, this thoughtful story explores misunderstandings and the value of everyday treasures. 
About the Author
Augusten Burroughs is the #1 New York Times bestselling author of: Running with Scissors, Dry, Magical Thinking: True Stories, Possible Side Effects, A Wolf at the Table, and You Better Not Cry. Augusten's writing has appeared in magazines and newspapers around the world including the New York Times and New York Magazine. He was twice named to Entertainment Weekly's "The 25 Funniest People in America." His books have been translated into over 40 languages and a movie adaptation of his memoir Dry is in production. He lives with several pets in a 200-year-old house beside a river in Connecticut. This is his first book for children. 
Bonnie Lui is the author and illustrator of ABC of Feelings. In addition to creating books, she works in television animation. Bonnie has a cat, Tibbs, who inspires her to be body positive; one thousand hungry worms for composting; and a room full of hobbies including weird cooking experiments and amigurumi dolls. She invites you to visit her online at bonnielui.com. 
Praise for My Little Thief
Praise for My Little Thief:
"The delightfully quirky tale, inspired by a real news story, is full of sweet surprises....Playful mixed-media illustrations are expressive and detailed, wonderfully conveying both human and crow high jinks. An irresistible avian adventure that will have readers seeking out amicable bird allies of their own."—Booklist
"A comically tricky interspecies friendship…. Chloe's no fan of birds, but the two embark on an extended exchange of tokens…. But one of the bird's gifts, a bright turquoise earring, lands Chloe in hot water when a classmate says it was appropriated from a bathroom windowsill. Is it theft—or just a crow being a crow? Crow's entrance energizes the lines, and mixed-media, cartoon animation–style art by Lui (ABC of Feelings) develops Chloe's individuality and openness to the world around her."—Publishers Weekly