Stardust: A Novel (Paperback)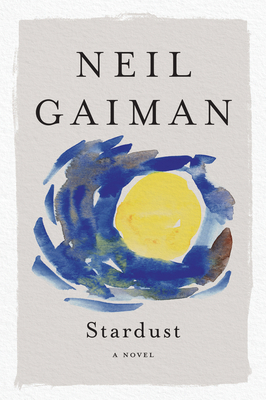 Staff Reviews
---
Three important things: there's witches, fallen stars, & pirates. And this book makes you want to be all over them. The main question of this book is: how far are you willing to go for the one you love?
—Lydia
— From
Staff Picks
Description
---
New York Times Bestseller
"A twisting, wondrous tale full of magic that only Neil Gaiman could have written." — Chicago Tribune
From #1 New York Times bestselling author Neil Gaiman, a beautiful and enchanting tale of love, adventure, and magic―one of ten classic Gaiman works repackaged with elegant original watercolor art by acclaimed artist Henry Sene Yee
One of Neil Gaiman's most beautiful and enchanting tales, Stardust is the story of Tristran Thorn, a young man who promises the woman he loves that he will bring her back a fallen star. But there are others who seek the star, for their own reasons. And then there's the star herself . . .
A beloved fairy tale infused with humor, magic, adventure, and romance, Stardust is a timeless work that demonstrates the writer's bold, elegant and infinitely wondrous imagination. 
About the Author
---
Neil Gaiman is a #1 New York Times bestselling author of books for children and adults whose award-winning titles include Norse Mythology, American Gods, The Graveyard Book, Good Omens (with Terry Pratchett), Coraline, and The Sandman graphic novels. Neil Gaiman is a Goodwill Ambassador for UNHCR and Professor in the Arts at Bard College.
Praise For…
---
"Eminently readable–a charming piece of work." — Washington Post Book World
"Strange . . . marvelous. . . . Stardust takes us back to a time when the world was more magical, and, real or not, that world is a charming place." — Philadelphia Inquirer
"A wonderful novel . . . A pleasure to read." — Denver Post
"Marvelous adventures . . . magical and fun." — Cleveland Plain Dealer
"Thrilling. . . . Stardust reads like a mix between L. Frank Baum, the Brothers Grimm, and a Tim Burton movie script." — Dallas Morning News
"Beautiful, memorable . . . A book full of marvels." — Milwaukee Journal Sentinel
"The multitalented author of The Sandman graphic novels and last year's Neverwhere charms again, with a deftly written fantasy adventure tale set in Victorian England and enriched by familiar folk materials." — Kirkus Reviews (starred)
"Sparkling, fresh, and charming. Superb." — Booklist
"A charming comic romance." — Dayton Daily News
"Delightful...a strange yet wonderful story." — Grand Rapids Press
"His finest work yet...Sometimes sparse, sometimes witty, often lyrical...prose as smooth as 12-year-old scotch." — St. Louis Post-Dispatch
"[A] tale about love, danger, friendship, magic, and adventure . . . a short novel that delivers big-time satisfaction." — Detroit Free Press
"A wonderful tale . . . mythic." — Denise Hamilton, Romantic Times BOOKclub
"[A] beautiful book, and most of all, perfect for all ages." — Desicritics.org on STARDUST