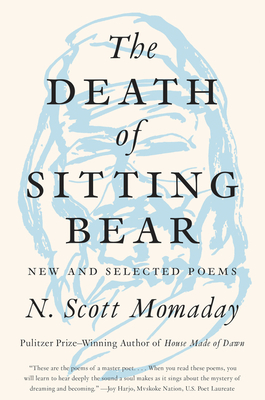 The Death of Sitting Bear: New and Selected Poems
Publication Date:
October 25th, 2022
Publisher:
Harper Perennial
Still North Books & Bar
1 on hand, as of Dec 10 2:12am
On Our Shelves Now
Description
"These are the poems of a master poet. . . . When you read these poems, you will learn to hear deeply the sound a soul makes as it sings about the mystery of dreaming and becoming." — Joy Harjo, Mvskoke Nation, U.S. Poet Laureate
Pulitzer Prize winner and celebrated American master N. Scott Momaday returns with a radiant collection of more than 200 new and selected poems rooted in Native American oral tradition.
One of the most important and unique voices in American letters, distinguished poet, novelist, artist, teacher, and storyteller N. Scott Momaday was born into the Kiowa tribe and grew up on Indian reservations in the Southwest. The customs and traditions that influenced his upbringing—most notably the Native American oral tradition—are the centerpiece of his work.
This luminous collection demonstrates Momaday's mastery and love of language and the matters closest to his heart. To Momaday, words are sacred; language is power. Spanning nearly fifty years, the poems gathered here illuminate the human condition, Momaday's connection to his Kiowa roots, and his spiritual relationship to the American landscape.
The title poem, "The Death of Sitting Bear" is a celebration of heritage and a memorial to the great Kiowa warrior and chief. "I feel his presence close by in my blood and imagination," Momaday writes, "and I sing him an honor song." Here, too, are meditations on mortality, love, and loss, as well as reflections on the incomparable and holy landscape of the Southwest.
The Death of Sitting Bear evokes the essence of human experience and speaks to us all.
Praise for The Death of Sitting Bear: New and Selected Poems
"These are the poems of a master poet, born of an age when our ears were not so bent towards digital production. Or should I say, these are the poems of a bear who has walked through several generations and stands before us, breathing clouds into a cold dawn, bearing this book of poetry. The bear's journey is mythic, a migration through tragedy and beauty, over lands rich with horses and stories. When you read these poems, you will learn to hear deeply the sound a soul makes as it sings about the mystery of dreaming and becoming." — Joy Harjo, Mvskoke Nation, U.S. Poet Laureate
"An admirable capstone to a distinguished literary career, this splendid selection should be a treasure for Momaday's readers and an excellent introduction for those new to Native American writing." — Library Journal (starred review)
"Firmly steeped in Kiowa heritage and indigenous oral storytelling traditions, Momaday breathes in the spirit of the Southwest and breathes out masterful imagery onto the page. The poems beg to be read aloud in order to savor the taste of the language, each word carefully chosen to evoke shape, sound, sight, feeling and history with the weight of its intention. . . . This incredibly personal collection of poems presents deep reflections on the natural world, indigenous history and the nature of humans, animals and God." — Shelf Awareness (starred review)
"[A] generous collection . . . . each poem reflects a lifetime of writing across the intersections of history, identity, and language. This accessible compendium allows readers to savor the life's work of an unparalleled poet." — Booklist
"A gem of a collection. . . . Soulful, heartfelt, beautifully constructed, and technically brilliant, this is a book written by one of our most important and unique voices." — Fjords
"The single best collection of works from a master of Native letters." — TCJ Student Magazine