Launch & Signing: Liniers, MACANUDO
Submitted by
lydia
on Sun, 09/18/2022 - 10:47am
New Book Alert! Join us for the launch of Macanudo: Welcome to Elsewhere, — the hilarious new graphic novel by local author Liniers (Ricardo Siri). Liniers will be signing and drawing.
This event is free and open to all.
Thursday
September 29
7:00 p.m.


About the Book
In the spirit of Calvin & Hobbes, Mutts, and Krazy Kat, Liniers (Ricardo Siri) uses a shifting cast of children, talking animals, imaginary monsters, sensitive robots, occasional elves, and anthropomorphized objects to perform gags, philosophize, muse on nature, and engage in surreal, artistic flights of fancy. With delicate, calligraphic pen work and understated watercolors, the comic skips lightly from style to style and subject to subject, as Liniers allows his imagination and observational humor free reign. Jokes about domestic life, imagined scenarios of historical figures, Cthulu showing up to Tinder dates, characters simply enjoying a pastoral sunset, the puncturing of pop-culture stalwarts: Macanudo is a boundless canvas for its author's humane and delightfully off-kilter view of the world, in a way few comic strips have ever even attempted.
About the Author

Born in Buenos Aires in 1973, Liniers (Ricardo Siri) became a daily cartoonist at 28 almost by accident, when other Argentine newspaper cartoonists had decamped to Spain at the nadir of a recession. He saw his role on the last page of La Nacion as offering a respite from dour news, but the strip's whimsy and humanity quickly led Macanudo to expand to papers across Latin America, and eventually beyond to Europe and North America. Three of Liniers' childrens' books have been published in the US, with Good Night, Planet, winning the comics industry Eisner Award for Best Publication For Early Readers in 2018. He currently lives in Vermont.
Event date:
Thursday, September 29, 2022 - 7:00pm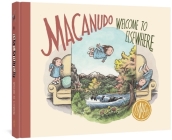 $24.99

ISBN: 9781683965565
Availability: Coming Soon - Available for Pre-Order Now
Published: Fantagraphics - October 25th, 2022
---