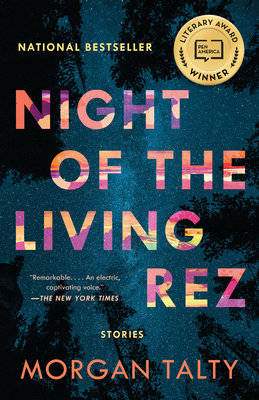 Night of the Living Rez
Publication Date:
July 5th, 2022
Publisher:
Tin House Books
Still North Books & Bar
1 on hand, as of Dec 10 2:12am
On Our Shelves Now
Night of the Living Rezexplores the way the past informs the present, and how each small moment makes a heartbreaking, funny, beautiful life. Talty's characters live and breathe on the page. This book is a celebration of life and language.
July 2022 Indie Next List
These stories weave together a Penobscot family's saga over decades of reservation life as young Dee and his family and friends grow up, struggle, hurt, and forgive one another. Talty's writing is gorgeous, and evokes modernity in the Penobscot community with palpable urgency.
Fall 2022 Indie Next List for Reading Groups
Description
NATIONAL BESTSELLER
Winner of the PEN/Robert W. Bingham Prize, National Book Critics Circle John Leonard Prize, American Academy of Arts & Letters Sue Kaufman Prize, The New England Book Award, and the National Book Foundation 5 Under 35 Honoree
A Finalist for the Andrew Carnegie Medal for Fiction, the Chautauqua Prize 2023, and Barnes & Noble Discover Book Prize
Named a Best Book of the Year by The New York Times, NPR, Esquire, Oprah Daily, and more
Set in a Native community in Maine, Night of the Living Rez is a riveting debut collection about what it means to be Penobscot in the twenty-first century and what it means to live, to survive, and to persevere after tragedy.
In twelve striking, luminescent stories, author Morgan Talty—with searing humor, abiding compassion, and deep insight—breathes life into tales of family and a community as they struggle with a painful past and an uncertain future. A boy unearths a jar that holds an old curse, which sets into motion his family's unraveling; a man, while trying to swindle some pot from a dealer, discovers a friend passed out in the woods, his hair frozen into the snow; a grandmother suffering from Alzheimer's projects the past onto her grandson; and two friends, inspired by Antiques Roadshow, attempt to rob the tribal museum for valuable root clubs. 
A collection that examines the consequences and merits of inheritance, Night of the Living Rez is an unforgettable portrayal of an Indigenous community and marks the arrival of a standout talent in contemporary fiction.
Praise for Night of the Living Rez
Magnificent.
— Lily King, The New York Times
Remarkable. . . . An electric, captivating voice. . . . Talty has assured himself a spot in the canon of great Native American literature.
— The New York Times
Captivating.
— TIME
A perfect mix of funny, sad, timely, and intense, this one has something for everyone.
— The Boston Globe
A blazing new talent.
— Oprah Daily
Memorable.
— The Wall Street Journal
Astounding. . . . Talty is an important new writer to watch.
— Esquire
Talty's book haunted and thrilled me in its raw explorations of inheritance, grief and survival, imbued with humor and warmth.
— NPR Books
Etched with humor, violence, tenderness, and insight, these braided stories burn bright.
— Orion
Unearths grace amid strife. . . . Talty, with his ear for natural, almost musical dialogue, compels you to keep listening.
— Vulture
Emotionally pitch-perfect, immersive, and beautifully nuanced, Talty has gifted readers with a stunning debut that shows the interconnectedness of family, community, and ultimately who we are and what we can become. . . . devastating, satisfying, and heart-stopping.
— Shondaland
Gorgeous.
— Cosmopolitan
Powerful.
— BuzzFeed
Searing, devastating and often darkly funny.
— Good Housekeeping
As tender as anything you'll read this year.
— High Country News
These stories took me in the same way Denis Johnson's Jesus' Son did when I first read it. The comparison here is meant in every way to praise Talty as a writer, and I'm sure I won't be the only one who says so, partially because of his emotional precision, his stark, unflinching, droll, intoxicating style, and also because of a certain drug/addiction element at play here. But as I got deeper into the work, into the book, and came to understand these lives and this community, the further away it felt from my initial comparison with Johnson, and the more familiar it felt—our Native communities being bound by countless common threads, strengths and afflictions both—and only then did I understand the distinct brilliance of Talty's voice as its own, and ours. I knew and felt for these people. Wanted to and knew I couldn't help them, even as they did me. There is so much brutal, raw, and beautiful power in these stories. I kept wanting to read and know more about these peoples' lives, how they ended up where they ended up, how they would get out, how they wouldn't. It is difficult to be so honest, and funny, and sad, at once, in any kind of work. Reading this book, I literally laughed and cried.
— Tommy Orange, author of There There
Morgan Talty's Night of the Living Rez is a beautifully crafted, raw and intimate book about youth, friendship, and family on the reservation. These stories are profoundly moving and essential, rendered with precision and intimacy. Talty is a powerful new voice in Native American fiction.
— Brandon Hobson, National Book Award finalist and author of The Removed
Flawless. . . . a masterwork by a major talent.
— The Star Tribune
Uses humor and heartache to tell the interconnected stories of a menagerie of Indigenous characters.
— The Philadelphia Inquirer
An inspired debut.
— Daily Beast
A triumph of fiction that values each and every one of its flawed characters deeply and that spins its stories in such a way that invites an immediate reread.
— The Portland Press Herald
Accomplished. . . . It was the only book of 2022 that I read twice.
— San Diego Union-Tribune
Remarkable.
— Ms. Magazine
Woven together with the care and intimacy of a family heirloom.
— Chicago Reivew of Books
Compassionate and insightful.
— WBUR, NPR Affiliate
Incendiary.
— WBEZ, NPR Affiliate
Stunning.
— LitHub
Tender, searing insight tempered with humor and compassion. This is a book to sink into.
— The Rumpus
A masterful debut. . . . filled with grit and has heaps of heart to spare.
— Isaac Fitzgerald - Electric Lit
It's so damn good. After reading the last sentence of the final short story, I just sat there feeling stunned.
— Joseph Han, author of Nuclear Family - The Millions
Shouldn't be missed.
— Boston.com
Unforgettable. . . . manages to assert that hope and forgiveness are possible.
— PureWow
Remarkable.
— Ms. Magazine
The best collection I have read all year.
— Ploughshares
Beautiful.
— Downeast Magazine
Exceptional. . . . [Talty] is a tremendously gifted writer, thoughtful and thought-provoking.
— The Maine Edge
Reflects the complexity, irony and humor of what it means to love and be loved, and how love itself is often an imperfect thing, even in its purest forms.
— Observer
Demands to be read, then read again.
— Fiction Writers Review
If you only read one short story collection this year, make it Night of the Living Rez.
— Book Riot
Remarkable. . . . Clear-eyed and compassionate.
— Booklist
Unforgettable. . . . rich in both plot and execution, this is a book that reflects how humanity is shaped by both trauma and survival.
— Tribal College Journal
Devastating and witty.
— The Adroit Journal
Talty is sure to delight us with humor and mend our hearts with humanity.
— Paste
Mixes tales of addiction and sadness with joy and humor.
— Appalachian Mountain Club
A memorable portrait of survival, love and perseverance.
— She Reads
Night of the Living Rez is a fiercely intelligent and beautifully written set of stories—a spectacularly visceral and moving account of the experience of a member of the Penobscot Nation in today's America—as well as a wrenching meditation on family and familial dysfunction. Morgan Talty is a master of the way dependency and pain transition from one body to another; the way both separating and refusing to separate become modes of saving ourselves; and the way, for all of our failures, we never stop doing what we can to provide each other hope.
— Jim Shepard, author of Phase Six
Night of the Living Rez is true storytelling. It's a book so funny, so real, so spirited and vivid it brought me back to my own rez life and the people who made me.
— Terese Marie Mailhot, author of Heart Berries
While soaked in pain and broken promises, Night of The Living Rez delivers with a grace and dignity on par with the writings of Craig Lesley, Dawn Dumont, James Welch and Joseph Dandurand. Morgan Talty delivers on so many levels and proves that this is why Indigenous Literature continues to be its own unique and sacred blessing. I loved this book. Loved it. And I can't wait to see what Morgan Talty does next. I am a fan for life. Mahsi cho, Morgan!
— Richard Van Camp, author of The Lesser Blessed
Night of the Living Rez delivers stories that combine the otherworldly with the everyday in ways that startle and sing. Morgan Talty portrays Maine and his Penobscot characters in language and images both beautiful and inventive. With equal parts humor and haunting, this book will linger.
— Toni Jensen, author of Carry
Night of the Living Rez is an indelible portrait of a family in crisis, and an incisive exploration of the myriad ways in which the past persists in haunting the present. I loved these sharply atmospheric, daring, and intensely moving stories, each one dense with peril and tenderness. Morgan Talty is a thrilling new talent.
— Laura van den Berg, author of I Hold a Wolf by the Ears
There is so much beauty in these stories. . . . they build on themselves the way a life builds: messily, unpredictably, with love and heartache and never quite in the way you expect.
— BookPage
Joining the ranks of Tommy Orange, Brandon Hobson and Terese Marie Mailhot, Talty's strikingly successful debut is poised to expand the growing circle of lauded Indigenous writers. Superb.
— Shelf Awareness
Ingenious. . . . Unforgettable.
— Publishers Weekly, Starred Review
Talty is adept at unearthing his characters' emotions. . . . these stories reveal the hardships facing a young Native American in contemporary America.
— Kirkus, Starred Review
Brilliant.
— Foreword Reviews, Starred Review