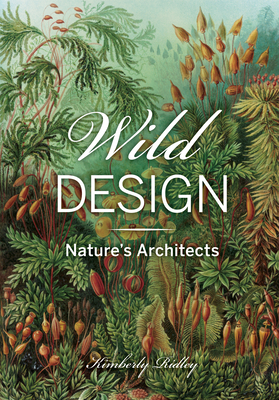 Wild Design: Nature's Architects
Publication Date:
November 9th, 2021
Publisher:
Princeton Architectural Press
Available in 3-7 business days
Description
Wild Design reveals the wonders of the natural world as never seen before, through the stunning, extraordinary, and functional forms created by animals, plants, and other organisms all around us.
Art and science beautifully intertwine in this fascinating exploration of structures and shapes found in nature, told through lively essays and masterful vintage illustrations. Lose yourself in the mesmerizing microscopic "glass" cases of jewellike diatoms. Sink into the mysterious underground fungal networks that shape the grand design of forests. Discover the surprisingly intricate and varied nests of birds. Wild Design reminds us that remarkable phenomena occur all around us—we just have to know how to find them.
Praise for Wild Design: Nature's Architects
"A feast for the eye and the mind. This celebration of nature's varied and often surprising forms is an invitation to delight, curiosity, and wonder."
- David George Haskell, author of Pulitzer finalist, The Forest Unseen, and Burroughs medalist, The Songs of Trees. Professor, University of the South,
"Through a mix of energetic essays and striking imagery, Ridley celebrates the shapes of protists, fungi, plants, animals, and other living things, whether via objects of their handiwork, or the bodies of the organisms themselves....With each shape Ridley unpacks, readers will likely feel as if they're viewing some of the most fascinating designs on earth. Although some can be seen only with a microscope, many can be observed by simply stepping outdoors, if we only take the time to stop and look."
— The Slowdown,
"This brand-new, coffee-table—friendly tome from science writer and essayist Kimberly Ridley reflects on wondrous patterns of engineering and design in the natural world — from mineral structures to birds' nests to underground fungal colonies — accompanied by way-cool vintage scientific illustrations. Readers won't see a beaver dam or a mushroom the same way again."
— Down East,
"Wild Design...is a beautiful little book filled with exquisite vintage drawings including fungi, flowers, seashells and snowflakes. The book is a thank you to Mother Nature and a plea for humans to make better lifestyle choices so plant and animal extinction isn't the norm."
— Akron Beacon Journal,
"Filled with antique illustrations, this lovely little stocking-stuffer book explores the magical design found in the natural world, from minerals, shells, and plants to insects, birds, and animals. Author Kimberly Ridley...challenges us to go outdoors to see the wonders all around us."
—The American Gardener,
"William Blake's poetic directive to "see a World in a Grain of Sand / And a Heaven in a Wild Flower" encapsulates the message of Kimberly Ridley's Wild Design....Designers and architects have always turned to the natural world for inspiration, and collectors grand and small have long sought out the wondrous natural treasures showcased in this book. Wild Design is an evocative miniature cabinet of curiosities, in portable codex form."
- Foreword Reviews,
"Wild Design is a book I want to read every day to remind me of the myriad ways our planet is alive. Kimberly Ridley's evocative and precise language is informed by her deep understanding of science and her own sense of wonder. She sees the interconnectedness of the world with her eyes wide open and her vision opens our eyes as well."
- Stuart Kestenbaum, Maine Poet Laureate 2016-2121,
"[A] slim, charming look at some of the most interesting results of 3.8 billion years of evolution...Wild Design will encourage any designer who looks to nature for design ideas and cares about the continuation of natural systems and, in turn, humanity."
- The Dirt (ASLA)
"A collection of fascinating essays that explore examples of amazing natural structures built by nature's architects and builders, offering 'a miniature cabinet of curiosities.'"
- Kennebec Journal/Augusta Morning Sentinel
"The Maine-based, award-winning children's book author Kimberly Ridley shares her sense of wonder for the natural world with adults in her latest release. By pairing brief essays on the forms of nature - including stalactites, coral reefs, pitcher plants and beaver lodges, to name a few - with reprints of antique botanical illustrations, Ridley has created a 'miniature cabinet of curiosities' for readers to enjoy."
- Maine Organic Farmer Gardener,