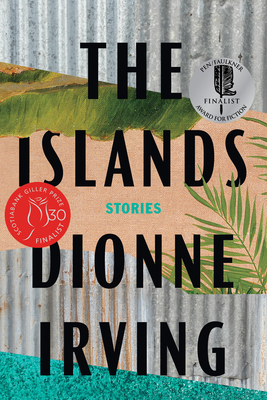 The Islands: Stories
Publication Date:
November 1st, 2022
Still North Books & Bar
1 on hand, as of Dec 10 2:12am
On Our Shelves Now
The Jamaican diaspora is so diverse, far from the stereotypes of Bob Marley and marijuana.The Islandsdepict colonialism, migration, and the immigrant experience. For readers of Anthony Veasna So, Ye Chun, and Nicole Dennis-Benn.
November 2022 Indie Next List
An absorbing short story collection that focuses on the Jamaican diaspora. I went through a full range of emotions and appreciated every detail. The first story will have you hooked and eager to finish the entire collection in a day.
Spring 2023 Reading Group Indie Next List
Description
Shortlisted for the 2023 Scotiabank Giller Prize
Finalist for the PEN/Faulkner Award for Fiction
A Hurston Wright Legacy Award Nominee
Longlisted for the 2023 New American Voices Award
A New York Times Book Review Editors' Choice
Powerful stories that explore the legacy of colonialism, and issues of race, immigration, sexual discrimination, and class in the lives of Jamaican women across London, Panama, France, Jamaica, Florida and more
The Islands follows the lives of Jamaican women—immigrants or the descendants of immigrants—who have relocated all over the world to escape the ghosts of colonialism on what they call the Island. Set in the United States, Jamaica, and Europe, these international stories examine the lives of an uncertain and unsettled cast of characters. In one story, a woman and her husband impulsively leave San Francisco and move to Florida with wild dreams of American reinvention only to unearth the cracks in their marriage. In another, the only Jamaican mother—who is also a touring comedienne—at a prep school feels pressure to volunteer in the school's International Day. Meanwhile, in a third story, a travel writer finally connects with the mother who once abandoned her.
Set in locations and times ranging from 1950s London to 1960s Panama to modern-day New Jersey, Dionne Irving reveals the intricacies of immigration and assimilation in this debut, establishing a new and unforgettable voice in Caribbean-American literature. Restless, displaced, and disconnected, these characters try to ground themselves—to grow where they find themselves planted—in a world in which the tension between what's said and unsaid can bend the soul.
Praise for The Islands: Stories
A Scotiabank Giller Prize Finalist
Finalist for the PEN/Faulkner Award for Fiction
Longlisted for the 2023 New American Voices Award
Hurston Wright Legacy Award Nominee
A New York Times Book Review Editors' Choice
The Millions, A Most Anticipated Book of the Year
"[An] electric collection . . . The collection teaches us what kinds of respites can be found in diaspora—fleeting, begrudging, but real nonetheless." —Brenda Peynado, The New York Times Book Review
"An expansive collection . . . For many of the characters, finding their place in the world, where they will be accepted and truly assimilate, is the running theme of their lives—the quintessential immigrant story, no matter where and when in time. I love this new voice giving life to Caribbean stories." —Keishel Williams, A NPR Best Book of the Year
"Immigration and assimilation are potent themes in novelist Dionne Irving's first collection of stories . . . From a mother at a posh school tasked with bringing food to International Day to a couple fleeing San Francisco, these tales from the 1950s to today, from Jamaica and Panama to the U.S and beyond, are written in accessible, warm prose that captivates the reader." —Zibby Owens, Good Morning America
"Irving navigates immigration, colonialism, issues of race and discrimination, and nuanced family relationships . . . though the subject matter of these 10 stories is serious, humor and humanness shine through." —Sarah Layden, Indianapolis Monthly
"[A] powerful debut short story collection." —Alison S. Cohn and Ariana Marsh, Harper's Bazaar
"As entertaining as it is gut wrenching, as enlightening as it is striking." —Jordan Snowden, Apartment Therapy
"A grand achievement . . . These twelve stories sing in their lyricism and complexity—a hallmark of an exciting new voice in literature." —Chicago Review of Books
"That rare short story collection that jumps from narrator to narrator, from place to place, from year to year, and still remains unified . . . [Her stories] suggest that sometimes a person might wish to be an island, to slough off from the mainland and stake out a tiny claim of space for themselves. Irving's narrators insist that sometimes vows have run their course, that sometimes there's no greater freedom than letting go." —Bekah Waalkes, Ploughshares
"Irving's elegant prose and eye for the just perfect-unexpected detail pulled me in." —CJ Hauser, Electric Literature
"Deeply satisfying . . . Irving writes with an easy openness, her sentences seemingly straightforward, in stories with much that can be inferred between the lines: inequity, imbalance, erasure. She has a remarkable talent for understated, multilayered density that reveals stifling responsibilities, desperate dreams and fluttering hopes." —Shelf Awareness
"In a series of 12 stories as sparkling and sharp-edged as cut diamonds, Irving explores the multifaceted experiences of Jamaican expats . . . Irving wields the written word as a sharp-tooled instrument, incising the lasting effects of colonialism and family dysfunction." —Booklist (starred review)
"In this assured collection, Canadian writer Irving follows the threads of colonialism, exile, and immigration throughout the 20th and 21st centuries . . . The international range and scope of her collection give it breadth and freshness . . . Her prose is smooth and unfussy." —Kirkus Reviews
"[A] penetrating collection . . . In lucid prose, Irving depicts her characters' chilly shocks over unexpected gaps in intimacy with their loved ones as they work to fit into non-immigrant Black spaces, making for stories that are both class-conscious and richly atmospheric. Irving's inviting combination of subjects and style heralds a welcome new voice." —Publishers Weekly
"Dionne Irving's groundbreaking debut collection is as insightful as it is unflinching. At times humorous and at times heartbreaking, The Islands illuminates the complex history and current condition of the far-flung Jamaican diaspora, bringing it to the page as it's never before been seen. Cultures collide between and within households, between and within characters, making for compelling stories about identity and belonging. An unforgettable read and a balm for anyone still searching for home." —Jonathon Escoffery, author of If I Survive You
"The stories in The Islands are darkly comic, raw, and boldly propulsive. Irving is attentive to the inner landscapes of the women who leave the Island in search of a place where they can be distinctly themselves, unmediated by the legacies of colonialism. The Islands is a radiant, at times surreal, and complex meditation on identity and the tragic absurdity of the search for home." —Azareen Van der Vliet Oloomi, author of Savage Tongues