You Never Get It Back (Iowa Short Fiction Award) (Paperback)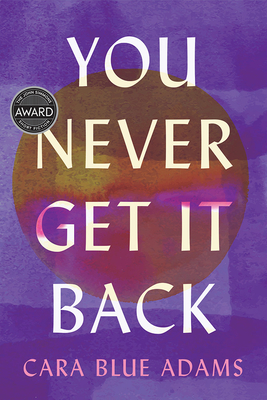 Staff Reviews
---
Quietly funny, insanely observant, and poetic in all the right places. In these gorgeously written interlinked short stories, we see so many sides to Kate as she navigates modern America, trying and failing and trying again to strive beyond social class, gender, abusive relationships, grief. Pretty heavy things in such a slim book, but Adams' illuminates a young woman's lifetime of love, hope and devastation that can land in deeply moving ways.

—Uyen
— From
Staff Picks
Description
---
The linked stories in Cara Blue Adams's precise and observant collection offer elegantly constructed glimpses of the life of Kate, a young woman from rural New England, moving between her childhood in the countryside of Vermont and her twenties and thirties in the northeast, southwest, and South in pursuit of a vocation, first as a research scientist and later as a writer. Place is a palpable presence: Boston in winter, Maine in summer, Virginia's lush hillsides, the open New Mexico sky. Along the way, we meet Kate's difficult bohemian mother and younger sister, her privileged college roommate, and the various men Kate dates as she struggles to define what she wants from the world on her own terms.

Wryly funny and shot through with surprising flashes of anger, these smart, dreamy, searching stories show us a young woman grappling with social class, gender, ambition, violence, and the distance between longing and having.
 
About the Author
---
Cara Blue Adams's fiction appears in Granta, the Kenyon Review, American Short Fiction, EPOCH, and Narrative. She is an assistant professor of creative writing at Seton Hall University. Adams lives in Brooklyn, New York.
Praise For…
---
"The structural originality and expansive sweep of stories in You Never Get It Back reveal a writer of impressive insight and technical virtuosity. The depth and urgency of these stories brought to mind Alice Munro's great collection Runaway. These stories crackle with restless vitality as women come up against the constraints of their circumstances and what it means to be in the world. Cara Blue Adams has written a modern classic of a collection, as effortless in its idiom as it is fearless in its consideration of contemporary life. These stories left me breathless."—Brandon Taylor, judge, John Simmons Short Fiction Award

"Breathtakingly poised and possessed of a daring, interrogative delicacy, Cara Blue Adams's stories are portholes into the inner lives of characters built with such depth of feeling that you feel you could walk around inside them for hours. Saturated with longing, loss, and brilliant plumes of joy, this is the kind of book you hold close to your heart and carry with you for years to come."—Alexandra Kleeman, author, You Too Can Have A Body Like Mine

"These marvelous linked stories follow Kate as she navigates the turbulent waters of early adulthood, friendship, and romance. Cara Blue Adams probes the depths of the heart with sensitivity and incisiveness. Whip smart and witty, surefooted and pitch-perfect, You Never Get It Back is a terrific debut!"—Kirstin Valdez Quade, author, The Five Wounds

"Cara Blue Adams writes with immense sensitivity and precision, transforming seemingly ordinary moments into radiant insights as she charts Kate's journey through landscapes and relationships, solitude and connection, bliss and grief. As she moves through time, Kate begins to understand—as do we—that the questions might matter even more than the answers. You Never Get It Back is a stunning debut, marking the arrival of an original and thrilling new voice."—Laura van den Berg, author, I Hold a Wolf by the Ears