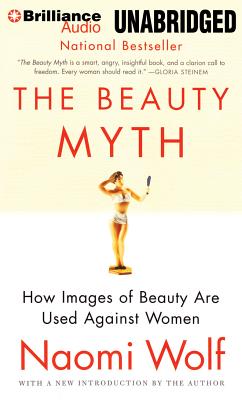 The Beauty Myth: How Images of Beauty Are Used Against Women
Publication Date:
February 25th, 2014
Publisher:
Brilliance Audio
Description
The bestselling classic that redefined our view of the relationship between beauty and female identity
In today's world, women have more power, legal recognition, and professional success than ever before. Alongside the evident progress of the women's movement, however, writer and journalist Naomi Wolf is troubled by a different kind of social control, which, she argues, may prove just as restrictive as the traditional image of homemaker and wife. It's the beauty myth, an obsession with physical perfection that traps the modern woman in an endless spiral of hope, self-consciousness, and self-hatred as she tries to fulfill society's impossible definition of "the flawless beauty."
"Powerful.... No other work has... so honestly depicted the confusion of accomplished women who feel emotionally and physically tortured by the need to look like movie stars." --New York Times
"An important book for women--and men--to read." --Christian Science Monitor
"The most important feminist publication since The Female Eunuch." --Germaine Greer
"Provocative and persuasive." --Library Journal