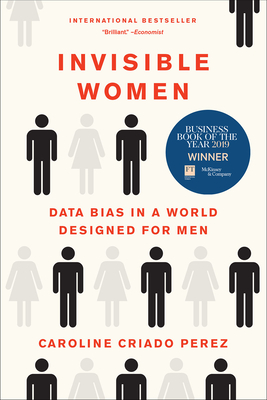 Invisible Women: Data Bias in a World Designed for Men
Publication Date:
March 2nd, 2021
Available in 3-7 business days
Description
Caroline Criado Perez's Invisible Women: Data Bias in a World Designed for Men is a landmark, prize-winning, international bestselling examination of how a gender gap in data perpetuates bias and disadvantages women.
 
#1 International Bestseller
 
Winner of the 2019 Financial Times and McKinsey Business Book of the Year Award
 
Winner of the 2019 Royal Society Science Book Prize
 
Data is fundamental to the modern world. From economic development to health care to education and public policy, we rely on numbers to allocate resources and make crucial decisions. But because so much data fails to take into account gender, because it treats men as the default and women as atypical, bias and discrimination are baked into our systems. And women pay tremendous costs for this insidious bias: in time, in money, and often with their lives.
 
Celebrated feminist advocate Caroline Criado Perez investigates this shocking root cause of gender inequality in Invisible Women. Examining the home, the workplace, the public square, the doctor's office, and more, Criado Perez unearths a dangerous pattern in data and its consequences on women's lives. Product designers use a "one-size-fits-all" approach to everything from pianos to cell phones to voice recognition software, when in fact this approach is designed to fit men. Cities prioritize men's needs when designing public transportation, roads, and even snow removal, neglecting to consider women's safety or unique responsibilities and travel patterns. And in medical research, women have largely been excluded from studies and textbooks, leaving them chronically misunderstood, mistreated, and misdiagnosed.
 
Built on hundreds of studies in the United States, in the United Kingdom, and around the world, and written with energy, wit, and sparkling intelligence, this is a groundbreaking, highly readable exposé that will change the way you look at the world.
Praise for Invisible Women: Data Bias in a World Designed for Men
"A provocative, vital book."
— Publishers Weekly
"In clear language, the author builds a strong case for greater inclusion with this thoughtful and surprisingly humorous view of institutional bias and gendered information gaps. While some readers may suggest that equality has arrived and gender no longer matters, this book, which should have wide popular appeal, is a solid corrective to that line of thought."
— Kirkus Reviews
"Invisible Women is a game-changer; an uncompromising blitz of facts, sad, mad, bad and funny, making an unanswerable case and doing so brilliantly. … the ambition and scope — and sheer originality — of Invisible Women is huge; no less than the story of what happens when we forget to account for half of humanity. It should be on every policymaker, politician and manager's shelves."
— The Times (UK)
"Read this book and then tell me the patriarchy is a figment of my imagination."
— Jeanette Winterson
"The thoroughness of Invisible Women doesn't detract from its absolute readability.  This is entertaining, scholarly and so very important."
— Adam Rutherford
"Brilliant … Invisible Women lays out in impressive detail the many ways that human beings are presumed to be male, as well as the wide-reaching effects of this distorted view of humanity."
— Katha Pollitt, The Nation
"The most important book I have ever read."
— Women You Should Know
"An excellent book packed with practical information of the kind required by those attempting to dismantle the patriarchy."
— The Irish Times
"Invisible Women is an absorbing cornucopia of thought-provoking facts - fascinating, alarming and face-palming in equal measures. Caroline Criado Perez shows up the shortcomings of a world designed for men by men. The consequences of treating men as the default option, or women just as smaller men – if they get considered at all - has wide-reaching implications for everything (and everyone) from snow clearing to seat-belts and many branches of medicine. I shall certainly think of this book next time I have a heart attack, a car crash or just want to go to the toilet at the theatre."
— Georgina Rippon
"An incredible book."
— Roman Mars, "99% Invisible"
"As Invisible Women illuminates, in an almost overwhelming way, communities pay tremendous costs for the gender data gap: costs of income, time, women's health, and sometimes women's lives."
— Bustle
"Even with all the progress women have made in the last few decades, Invisible Women proves we still have a long way to go. Reading this book—preferably in a comfortably warm room—is the first step."
— PureWow
"Feminist campaigner, Caroline Criado-Perez left us gobsmacked with Invisible Women, an in-depth look at how women are (still) excluded in society." 
— Refinery29 (UK)
"This book is a devastating indictment of institutionalised complacency and a rallying cry to fight back… Invisible Women should propel women into action."
— Sunday Times (UK)
"A diligently researched and clearly written exposé."
— Booklist
"A powerful call to bust the myths and bridge the gap."
— Nature
"There's a sense of rage simmering beneath the surface of Invisible Women, every now and then it bubbles up in the text, but the book's force doesn't derive from the power of its rhetoric – instead it's the steady, unrelenting accumulation of evidence, the sheer weight of her argument. … Reading Invisible Women one might experience, as I did, the dizzying sensation that so many of my own stories, so many of my friends' stories, so many incidents I had experienced as discrete and unrelated – at work, at home, on the streets, in hospital – are in fact interconnected. As women, we are so used to contorting ourselves to fit into men-shaped spaces, we've learned to ignore how often it hurts."
— The New Statesman
"Brilliant."
— The Economist
"Criado Perez doesn't set out to prove a vast conspiracy; she simply wields data like a laser, slicing cleanly through the fog of unconscious and unthinking preferences."
— The Guardian
"Shocking, yet essential, reading."
— Stylist
"A blisteringly good book... never less than eye-opening, and frequently staggering."
— The Bookseller