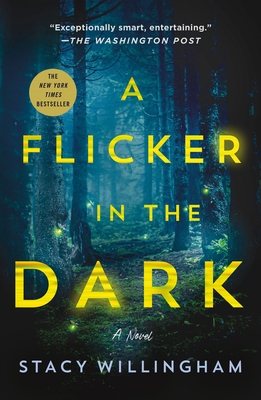 A Flicker in the Dark: A Novel
Publication Date:
January 10th, 2023
Publisher:
Minotaur Books
Available in 3-7 business days
This twisty thriller kept me reading late into the night! It keeps you guessing up until the very end of this cat-and-mouse game, where monsters and unsettling memories lurk in every corner — who can be trusted? Utterly captivating!
January 2022 Indie Next List
Description
A New York Times Bestseller
"A smart, edge-of-your-seat story with plot twists you'll never see coming. Stacy Willingham's debut will keep you turning pages long past your bedtime." —Karin Slaughter
When Chloe Davis was twelve, six teenage girls went missing in her small Louisiana town. By the end of the summer, her own father had confessed to the crimes and was put away for life, leaving Chloe and the rest of her family to grapple with the truth and try to move forward while dealing with the aftermath.
Now twenty years later, Chloe is a psychologist in Baton Rouge and getting ready for her wedding. While she finally has a fragile grasp on the happiness she's worked so hard to achieve, she sometimes feels as out of control of her own life as the troubled teens who are her patients. So when a local teenage girl goes missing, and then another, that terrifying summer comes crashing back. Is she paranoid, seeing parallels from her past that aren't actually there, or for the second time in her life, is Chloe about to unmask a killer?
From debut author Stacy Willingham comes a masterfully done, lyrical thriller, certain to be the launch of an amazing career. A Flicker in the Dark is eerily compelling to the very last page.
Praise for A Flicker in the Dark: A Novel
Praise for A Flicker in the Dark
Goodreads – One of the Readers' Most Anticipated Mysteries of 2022
Nerd Daily – One of the Most Anticipated 2022 Book Releases
Crime by the Book – One of the Most Anticipated Crime Books of Early 2022
SIBA – One of the 'Read This Next!' Picks of the Month
Deep South Magazine – Fall/Winter Reading Lists
"Exceptionally smart, entertaining.... [Willingham's] denouement is both surprising and plausible." —The Washington Post
"Beautifully written... a must read." —Paste
"Equal parts domestic suspense and hard-edged police procedural. . . Willingham pulls together a tight, involving plot with a solid psychological look at the effects of a horrid crime on the Davises, the victims' families and the small community. . . The gripping A Flicker in the Dark sets a terrific course for the new year, shining a bright light on a new author to savor in Willingham." —Oline Cogdill, South Florida Sun Sentinel
"Charleston author Stacy Willingham's debut novel A Flicker in the Dark is collecting accolades for its lyrical prose and propulsive, deeply creepy story." —Augusta Chronicle
"A book you won't want to put down." —Red Carpet Crash
"A Flicker in the Dark will have you sleeping with the lights on by the time you reach the end. . . Suspense climbs as the pages turn, you won't be able to put this one down once you pick it up." —Daily Hive
"A great addition to any mystery/psychological thriller collection, with an unforgettable character haunted by her past in an authentic Louisiana setting, which ups the creep factor." —Library Journal
"Willingham skillfully intercuts Chloe's anxious first-person narration in the present with flashbacks to her childhood, ratcheting up the tension. Atmospheric prose and abundant red herrings amplify the tale's intensity. Willingham is a writer to watch." —Publishers Weekly
"Willingham offers taut storytelling and a heroine with compelling vulnerability. This is a strong debut recommended for domestic-suspense readers lining up next-reads." —Booklist
"I have not felt this excited about a thriller in years. I could not put this book down. It's fabulous." —Chelsea Cain
"Don't trust anyone in this wickedly good debut by Stacy Willingham. A twisty and propulsive thriller." —Peter Swanson
"A Flicker in the Dark is equal parts lush Southern Gothic, penetrating character study, family tragedy wrenching enough to bruise, taut psychological suspense, and—best of all—a mystery as profoundly satisfying as any I've read in years. Evocative and exhilarating." —A.J. Finn
"A psychological thriller in the truest sense -- an engaging, propulsive read, loaded with surprising twists, that genuinely thrills as it gets deep under the skin of its fascinating heroine, Chloe Davis. I tore through this book." —Alison Gaylin
"Haunting, lyrical and utterly compelling! These are just a few of the words of praise one could use to describe A Flicker in the Dark. Author Willingham takes us on an unstoppable journey through the psychology of evil, and of courage (in many senses), all told in a pitch-perfect literary style. Once you start reading, you will not put it down." —Jeffery Deaver