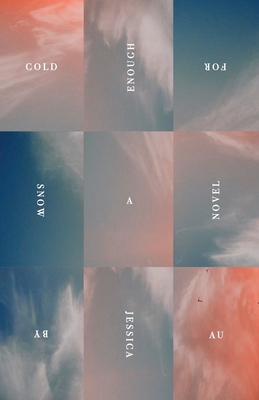 Cold Enough for Snow
Publication Date:
February 15th, 2022
Publisher:
New Directions
Available in 3-7 business days
Description
Winner of the inaugural Novel Prize, an elegant and subtle exploration of the mysteries of our relationships to others
A mother and daughter travel from abroad to meet in Tokyo: they walk along the canals through the autumn evenings, escape the typhoon rains, share meals in small cafes and restaurants, and visit galleries to see some of the city's most radical modern art. All the while, they talk: about the weather, horoscopes, clothes, and objects, about family, distance, and memory. But uncertainties abound. Who is really speaking here—is it only the daughter? And what is the real reason behind this elliptical, perhaps even spectral journey? At once a careful reckoning and an elegy, Cold Enough for Snow questions whether any of us speak a common language, which dimensions can contain love, and what claim we have to truly know another's inner world.
Selected from more than 1,500 entries, Cold Enough for Snow won the Novel Prize, a new, biennial award offered by New Directions, Fitzcarraldo Editions (UK), and Giramondo (Australia), for any novel written in English that explores and expands the possibilities of the form.
Praise for Cold Enough for Snow
Au's writing ebbs along effortlessly and poetically.
— The Australian
Jessica Au is a new talent to be watched.
— Romy Ash - Australian Book Review
Rarely have I been so moved, reading a book: I love the quiet beauty of Cold Enough for Snow and how, within its calm simplicity, Jessica Au camouflages incredible power.
— Edouard Louis
Flawed understanding, consolation, and insufficiency all infuse this compelling, unsettling novel reminiscent of Jhumpa Lahiri's Whereabouts or Rachel Cusk's Outline Trilogy. A beautifully observed book, written in precise, elegant prose that contains a wealth of deep feeling.
— Kirkus (starred review)
On a trip to Japan, a mother and daughter circle each other quietly. There is no tension, no snap, but every exchange — about souvenirs and restaurant menus and their childhood memories — is laden with pressure, a potential missed opportunity for bonding...Cold Enough for Snow observes the invisible thread between parent and child as it twists and knots and occasionally goes slack.
— Hillary Kelly - Vulture
Au's is a book of deceptive simplicity, weaving profound questions of identity and ontology into the fabric of quotidian banality...What matters, the novel reassures us, is constantly imbricated with the everyday, just as alienation and tender care can coexist in the same moment.
— Claire Messud - Harper's
Quiet and crisp like a clear winter morning...a world of melancholy and dissolving identity.
— Shane Anderson - 032c
Jessica Au's slim, spectral novel Cold Enough for Snow...deftly uses stream of consciousness to explore the legacy of inherited family traits and the difficulty of breaking away.
— Tobias Grey - The New York Times
Au's novel is perhaps most masterly in the way it evokes our dissociation from desire—our own and other people's...we can sense it in the soft, patient warmth of Au's prose, which sometimes feels attuned to truths just out of the narrator's reach.
— Peter C. Baker - The New Yorker
One of the novella's neat turns lies in how precisely and matter-of-factly it narrates events that are – as we come to realize – anything but. Au is fascinated by the question of knowledge, especially the knowledge shared – or not – between two people.
— Declan Fry - The Sydney Morning Herald
Au's calm, unrelenting focus would be hard to take over a longer book – but this novella is graceful and precise. Like the narrator fine-tuning the aperture on her Nikon camera, Au seems to say, we have to choose our scale, what we pay attention to.
— Imogen Dewey - The Guardian
Au captures the particular dynamic between adult children and their parents with complexity, allowing for moments of recognition as well as estrangement, frustration as well as tenderness. Although we often conflate being loved and being understood, perhaps an essential part of being close to someone is accepting the ways in which they'll always be a mystery. Cold Enough for Snow reveals that there are other kinds of love that can hold space for silence, and privacy.
— Madelaine Lucas - Bomb
Full of musings about art, memory, relationships and the human condition, Cold Enough for Snow is in some ways a writer's book, a pleasure to read as much for insight as for beautiful prose.
— Florentyna Low - Japan Times
A powerful novel about the relationship between a mother and daughter, and the ways that geography, language, art, travel and migration can change the ways we see ourselves....a hazy, dream-like mirage, in which characters, emotions and intentions are ever-so-slightly out of reach.
— Frieze
Cold Enough for Snow is defined by its small scale, driven by the details of life in its absolute present moment. Au's flashbacks are more concerned with the patterns on bowls, the texture of fabrics, or the light through a "canopy of leaves," than the sequence of events. Her language comes from a different logic of attention: One that skims along the textures of life, floating from one association to another; she finds connections not in historical causation, but in the way walking home after a swim recalls the same feeling as looking at Impressionist paintings. And if the narrator doesn't succeed in bonding with her mother, Au succeeds in connecting to the reader with her subtle language and elegant way of looking.
— Emma Heath - Cleveland Review