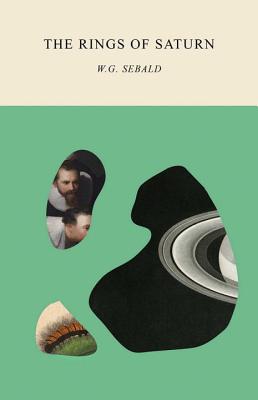 The Rings of Saturn
Publication Date:
November 8th, 2016
Publisher:
New Directions
Still North Books & Bar
1 on hand, as of Dec 10 2:12am
On Our Shelves Now
Description
"The book is like a dream you want to last forever" (Roberta Silman, The New York Times Book Review), now with a gorgeous new cover by the famed designer Peter Mendelsund
A masterwork of W. G. Sebald, now with a gorgeous new cover by the famed designer Peter Mendelsund 
The Rings of Saturn—with its curious archive of photographs—records a walking tour of the eastern coast of England. A few of the things which cross the path and mind of its narrator (who both is and is not Sebald) are lonely eccentrics, Sir Thomas Browne's skull, a matchstick model of the Temple of Jerusalem, recession-hit seaside towns, wooded hills, Joseph Conrad, Rembrandt's "Anatomy Lesson," the natural history of the herring, the massive bombings of WWII, the dowager Empress Tzu Hsi, and the silk industry in Norwich. W.G. Sebald's The Emigrants (New Directions, 1996) was hailed by Susan Sontag as an "astonishing masterpiece perfect while being unlike any book one has ever read." It was "one of the great books of the last few years," noted Michael Ondaatje, who now acclaims The Rings of Saturn "an even more inventive work than its predecessor, The Emigrants."
Praise for The Rings of Saturn
Sebald has done what every writer dreams of doing. The Rings of Saturn glows with the radiance and resilience of the human spirit.
— Roberta Silman - The New York Times Book Review
Out of exquisitely attuned feeling for the past, Sebald fashioned an entirely new form of literature. I've read his books countless times trying to understand how he did it. In the end, I can only say that he practiced a kind of magic born out of almost supernatural sensitivity.
— Nicole Krauss
He is an addiction, and, once button-holed by his books, you have neither the wish nor the will to tear yourself away.
— Anthony Lane - The New Yorker
An extraordinary palimpsest of nature, human, and literary history.
— Merle Rubin - The Wall Street Journal
In Sebald's writing, everything is connected, everything webbed together by the unseen threads of history, or chance, or fate, or death... beautiful and unsettling, elevated into an art of the uncanny—an art that was, in the end, Sebald's strange and inscrutable gift.
— Slate
Think of W.G. Sebald as memory's Einstein.
— Richard Eder - Los Angeles Times
This is very beautiful, and its strangeness is what is beautiful... One of the most mysteriously sublime of contemporary writers. And here, in The Rings of Saturn, is a book more uncanny than The Emigrants.
— James Wood - The New Republic
Sublime.
— Cynthia Ozick
The first thing to be said about W. G. Sebald's books is that they always had a posthumous quality to them. He wrote—as was often remarked—like a ghost. He was one of the most innovative writers of the late twentieth century, and yet part of this originality derived from the way his prose felt exhumed from the nineteenth.
— Geoff Dyer
Few writers have traveled as quickly from obscurity to the sort of renown that yields an adjective as quickly as German writer W. G. Sebald (1944 - 2001), and now Sebaldian is as evocative as Kafkaesque. Sebald is that rare being: an inimitable stylist who creates extraordinary sentences that, like crystals, simultaneously refract and magnify meaning.
— Booklist
Ostensibly a record of a journey on foot through coastal East Anglia, The Rings of Saturn is also a brilliantly allusive study of England's imperial past and the nature of decline and fall, of loss and decay. The Rings of Saturn is exhilaratingly, you might say hypnotically, readable. It is hard to imagine a stranger or more compelling work.
— Robert McCrum - The London Observer