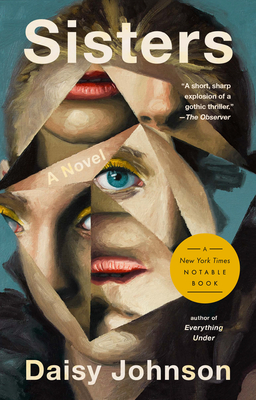 Sisters: A Novel
Publication Date:
August 24th, 2021
Publisher:
Riverhead Books
Still North Books & Bar
1 on hand, as of Dec 2 2:12pm
On Our Shelves Now
Description
A NEW YORK TIMES NOTABLE BOOK OF THE YEAR
"[A] skillfully crafted gothic mystery . . . Johnson pulls off a great feat in this book." —Financial Times

"It reminded me, in its general refusal to play nice, of early Ian McEwan." —The New York Times Book Review

"Johnson crafts an aching thriller about the dangers of loving too intensely." —Time
From a Booker Prize finalist and international literary star: a blazing portrait of one darkly riveting sibling relationship, from the inside out.
"One of her generation's most intriguing authors" (Entertainment Weekly), Daisy Johnson is the youngest writer to have been shortlisted for the Man Booker Prize. Now she returns with Sisters, a haunting story about two sisters caught in a powerful emotional web and wrestling to understand where one ends and the other begins.
Born just ten months apart, July and September are thick as thieves, never needing anyone but each other. Now, following a case of school bullying, the teens have moved away with their single mother to a long-abandoned family home near the shore. In their new, isolated life, July finds that the deep bond she has always shared with September is shifting in ways she cannot entirely understand. A creeping sense of dread and unease descends inside the house. Meanwhile, outside, the sisters push boundaries of behavior—until a series of shocking encounters tests the limits of their shared experience, and forces shocking revelations about the girls' past and future.
Written with radically inventive language and imagery by an author whose work has been described as "entrancing" (The New Yorker), "a force of nature" (The New York Times Book Review), and "weird and wild and wonderfully unsettling" (Celeste Ng), Sisters is a one-two punch of wild fury and heartache—a taut, powerful, and deeply moving account of sibling love and what happens when two sisters must face each other's darkest impulses.
Praise for Sisters: A Novel
Praise for Sisters by Daisy Johnson: 
ONE OF THE TOP TEN BEST BOOKS OF THE YEAR —PUBLISHER'S WEEKLY
ONE OF THE BEST BOOKS OF THE YEAR —VULTURE
"[A] skillfully crafted gothic mystery . . . Johnson pulls off a great feat in this book." —Financial Times

"It reminded me, in its general refusal to play nice, of early Ian McEwan." —The New York Times Book Review

"Johnson crafts an aching thriller about the dangers of loving too intensely." —Time

"The stories Daisy Johnson tells are at once heart-rending and hair-raising. Her prose is elegantly emotional; her plotting would make Shirley Jackson, a master of upmarket horror, proud. . . . Sisters is an ode to sisterly love—and a warning of how destructive devotion can be." —The Economist
"Sisters ends with a magnificent twist, one that will make readers want to start over from page one and see what was right in front of them the whole time." —The Boston Globe
 
"As well as the stale, cluttered bedrooms of The Virgin Suicides, it has echoes of Shirley Jackson's Hill House, the rusty, moss-coated grange in Tennyson's "Mariana," the "spiteful" haunted house in Toni Morrison's Beloved, and, inevitably, the bleak landscapes and inseparable, feral childhoods of Wuthering Heights." —New Statesman (London)
 
"Entrancing . . . Johnson's own writing summons the just-off-ness of the uncanny; she is capable of passages of exquisite creepiness. . . . Her sentences have an aqueous quality." —The New Yorker

"Transcends genres of horror and true crime . . . The creepiest thing I've read lately. . . . a thoroughly modern, highly disturbing shocker that is also beautifully written." —The Atlanta Journal-Constitution

"Read this when you are able to stay up late. Sisters is a haunting story. . . . We didn't see the twist coming. This story is a tight monster." —Goop
"The ending will blow your socks off with a twist I never saw coming." —Good Housekeeping
 
"Johnson expertly layers the Gothic atmosphere with dread." —The New York Times
 
"Daisy Johnson is a new goddamn swaggering monster of fiction." —Lauren Groff, The New York Times–bestselling author of Florida
 
"Daisy Johnson writes in a torrent of language as unrelenting and turbulent and dark as the river at the book's heart; dive in for just a moment and you'll emerge gasping and haunted." —Celeste Ng, The New York Times–bestselling author of Little Fires Everywhere
"A novel about family facing their darkest impulses while quarantined together? Highly relatable." —Vulture
 
"Daisy Johnson is the youngest writer ever to have be short-listed for the Booker prize, and with good reason. . . . Exploring the fraught dynamics of blood and betrayal, Sisters is yet another Johnson masterpiece." —Elle, "Most Anticipated Book of Summer 2020"
"Johnson's exploration of sibling love and rivalry is powerful and tinged with a hint of menace, and you'll feel a slight pit in your stomach as July and September's fraught relationship slowly and horrifyingly continues to fracture in this new kind of love story." —E! Online
"Daisy Johnson weaves an uncanny, Gothic tale of two dangerously intertwined siblings. . . . It's deeply unnerving and unnervingly prescient." —Vogue

"Johnson is a master of creating vivid imagery in her prose, and this book is no exception. The sense of unease melds with the beautiful language in a way that will take your breath away." —Shondaland
"Spooky, sensuous, sensational . . . the language . . . is distinctive without getting in the way of the page-turning desire to find out what the hell's going on and which inevitable tragedy will hit first." —The Times (London)
"[Johnson] has two gifts not often bestowed on the same writer: she can pace a narrative as scarily and surprisingly as any airport thriller-writer; she can also write like an angel, evoking sights and smells, changes in the weather, the landscape inside your head. . . . I guarantee that once you start this novella, the world will be dead to you until it is finished. And when it is finished, the world will have changed." —The Tablet (UK)
"Just when you wonder where this hallucinatory novel is going, Johnson beautifully wrong-foots you with a shivery denouement that makes the ghosts in her story all too real." —Daily Mail (London)
"Exhilarating . . . The unspeakable thing that happens is, of course, revealed in the closing chapters, and Johnson's powerful storytelling means the moment creeps up on you, catching you unaware even after hours of wide-eyed reading. A masterful follow-up to her debut, Johnson's novel is quietly terrifying and certainly an apt read for 2020." —Evening Standard

"There are hints here that will reward re-reading but it also makes an immediate impression—there's a weight to it which doesn't shift when you put it down." —The Telegraph (London)
 "A short, sharp explosion of a gothic thriller whose tension ratchets up and up to an ending of extraordinary lyricism and virtuosity." —The Guardian (London)
  
"Johnson . . . brings her nuanced sense of menace and intimate understanding of the perils of loving too much to this latest entry in her developing canon of dark places where the unspeakable speaks and speaks. A subtle book that brings to bear all its author's prodigious skill. A must read." —Kirkus Reviews (starred review)

"In achingly lyrical prose, Johnson employs alternating narratives, divulging and withholding information by turns, keeping the reader unsure of what to believe. When the revelations hit, they are intensely powerful. Readers of classic gothic fiction will find a contemporary master of the craft here." —Publishers Weekly (starred review)
"Beautifully written, the characters expertly drawn . . . A memorable and haunting novel." —Booklist (starred review)

"Sisters casts a spell, and Johnson's ability to make her language twist and turn, to hint and suggest at something much larger, is truly remarkable." —BookPage (starred review)
"[A] dark, atmospheric novel that explores the tension of familial closeness, both physical and emotional, and unfolds in a house in near-isolation. . . . somehow Daisy Johnson wrote it before the pandemic. Prescience aside, Sisters is one of the rare novels that balances an almost-uncomfortable level of tension with gloriously stylish prose throughout. There's an element of escapism in the profoundly creepy, and the masterful claustrophobia of Sisters will deliver you from your own." —Lit Hub
"Half ghost-train, half rollercoaster. Once you get on, you can't get off." —Mark Haddon, author of The Curious Incident of the Dog in Night-Time
"Daisy Johnson is one of the best writers in this country. . . . an astonishing stylist. Sisters is a thumping good book, haunting, visceral and potent." —Max Porter, author of Grief Is the Thing with Feathers
"A taut, disturbing, and brilliantly written psychological drama of the first order. You'll read for the quality of the prose, but also the amazing depth of characterization and mystery. Another great book from one of our finest writers." —Jeff VanderMeer, author of Annihilation
 
"Daisy Johnson is an enchantress who can turn the day into night and back again in a sentence. I love her prose so much, and this book was the sibling love-and-horror story of my dreams and nightmares." —Karen Russell, The New York Times–bestselling author of Swamplandia!
"This is a book that makes you remember why you first fell in love with reading. I was haunted by it. Utterly unique." —Evie Wyld, author of All the Birds, Singing

"Surprising, gorgeously written, and profoundly unsettling, [Johnson's work] will sink into your bones and stay there."—Carmen Maria Machado, author of Her Body and Other Parties