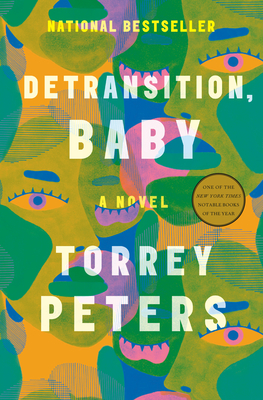 Detransition, Baby: A Novel
Publication Date:
October 5th, 2021
Still North Books & Bar
1 on hand, as of Dec 10 2:12am
On Our Shelves Now
Description
NATIONAL BESTSELLER • The lives of three women—transgender and cisgender—collide after an unexpected pregnancy forces them to confront their deepest desires in "one of the most celebrated novels of the year" (Time)
"Reading this novel is like holding a live wire in your hand."—Vulture
Named one of the Best Books of the Year by more than twenty publications, including The New York Times Book Review, Entertainment Weekly, NPR, Time, Vogue, Esquire, Vulture, and Autostraddle
PEN/Hemingway Award Winner • Finalist for the Lambda Literary Award, the National Book Critics Circle Award, and the Gotham Book Prize • Longlisted for The Women's Prize • Roxane Gay's Audacious Book Club Pick • New York Times Editors' Choice
Reese almost had it all: a loving relationship with Amy, an apartment in New York City, a job she didn't hate. She had scraped together what previous generations of trans women could only dream of: a life of mundane, bourgeois comforts. The only thing missing was a child. But then her girlfriend, Amy, detransitioned and became Ames, and everything fell apart. Now Reese is caught in a self-destructive pattern: avoiding her loneliness by sleeping with married men.
Ames isn't happy either. He thought detransitioning to live as a man would make life easier, but that decision cost him his relationship with Reese—and losing her meant losing his only family. Even though their romance is over, he longs to find a way back to her. When Ames's boss and lover, Katrina, reveals that she's pregnant with his baby—and that she's not sure whether she wants to keep it—Ames wonders if this is the chance he's been waiting for. Could the three of them form some kind of unconventional family—and raise the baby together?
This provocative debut is about what happens at the emotional, messy, vulnerable corners of womanhood that platitudes and good intentions can't reach. Torrey Peters brilliantly and fearlessly navigates the most dangerous taboos around gender, sex, and relationships, gifting us a thrillingly original, witty, and deeply moving novel.
Praise for Detransition, Baby: A Novel
"I loved seeing [Detransition, Baby] on other people's lists because, you know, Torrey Peters, she went there. It was just irreverent, [referencing] so many things that queer people don't necessarily want to talk about. And she made a story out of it instead of sitting and making the discomfort the only story."—Roxane Gay, The New York Times
"Detransition, Baby is so good I want to scream."—Carmen Maria Machado
"This book is exhilaratingly good."—Jia Tolentino
"An unforgettable portrait of three women, trans and cis, who wrestle with questions of motherhood and family making . . . Detransition, Baby might destroy your book club, but in a good way."—Andrea Lawlor, author of Paul Takes the Form of a Mortal Girl
"A tale of love, loss, and self-discovery as singular as it is universal, and all the sweeter for it."—Entertainment Weekly
"It's the smartest novel I've read in ages. I wish I could figure out how it manages to be utterly savage & lacerating while also conveying endlessly expanding compassion. It's kind of a miracle."—Garth Greenwell
"If I had the ability to momentarily wipe my memory, I'd use it to reread Detransition, Baby for the first time."—Vogue
"Even the most complimentary adjectives feel insufficient to describe Torrey Peters' first novel."— Bookpage (starred review)
"This emotionally devastating, culturally specific, endlessly intelligent novel is . . . really, really funny."—Austostraddle
"A fiercely confident novel."—O: The Oprah Magazine
"With heart and savvy, [Detransition, Baby upends] our traditional, gendered notions of what parenthood can look like."—The New York Times Book Review
"[Peters] confronts the unruliness of our desires, and our vitality as we struggle within their limits."—The New Yorker

"[An] electrifying debut . . .  a deeply searching novel that resists easy answers."—Esquire
"Peters's soap opera-meets-modern-cultural-analysis is witty, emotional, and eye-opening."—People
"[Peters gets] to the very heart of what it means to exist as a gendered being in the world."—them
 
"Funny and gossipy and insightful and cutting and absolutely delicious, all while tackling issues from a lens that has been missing from the literary world for way too long."—Refinery29

"'[Detransition, Baby] is going to play a role in defining the literature of 2021 and beyond."—The Millions

"Plenty of books are good; this book is alive."—Jordy Rosenberg, author of Confessions of the Fox