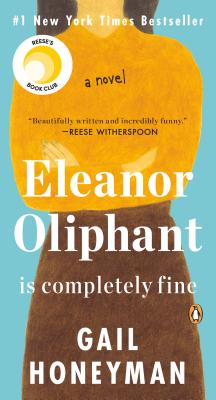 Eleanor Oliphant Is Completely Fine: Reese's Book Club (A Novel)
Publication Date:
August 6th, 2019
Eleanor Oliphant has quickly become one of my favorite fictional characters, and this novel one of my favorite books. Eleanor is completely original and the right kind of weird. Her life and her past, combined with such kindhearted characters, made for a compulsively readable, heartwarming story that I did not want to put down. I can't wait for this book to come out so many more can fall in love with Eleanor. Highly, highly recommended.
May 2017 Indie Next List
Description
#1 NEW YORK TIMES BESTSELLER
A Reese Witherspoon Book Club Pick
"Beautifully written and incredibly funny, Eleanor Oliphant Is Completely Fine is about the importance of friendship and human connection. I fell in love with Eleanor, an eccentric and regimented loner whose life beautifully unfolds after a chance encounter with a stranger; I think you will fall in love, too!" —Reese Witherspoon
No one's ever told Eleanor that life should be better than fine. 
Meet Eleanor Oliphant: She struggles with appropriate social skills and tends to say exactly what she's thinking. Nothing is missing in her carefully timetabled life of avoiding social interactions, where weekends are punctuated by frozen pizza, vodka, and phone chats with Mummy. 
But everything changes when Eleanor meets Raymond, the bumbling and deeply unhygienic IT guy from her office. When she and Raymond together save Sammy, an elderly gentleman who has fallen on the sidewalk, the three become the kinds of friends who rescue one another from the lives of isolation they have each been living. And it is Raymond's big heart that will ultimately help Eleanor find the way to repair her own profoundly damaged one.
Soon to be a major motion picture produced by Reese Witherspoon, Eleanor Oliphant Is Completely Fine is the smart, warm, and uplifting story of an out-of-the-ordinary heroine whose deadpan weirdness and unconscious wit make for an irresistible journey as she realizes. . .
 
The only way to survive is to open your heart. 
Praise for Eleanor Oliphant Is Completely Fine: Reese's Book Club (A Novel)
"A charmer. . . satisfyingly quirky."—Janet Maslin, The New York Times 
"This wacky, charming novel. . . draws you in with humor, then turns out to contain both a suspenseful subplot and a sweet romance. . . Hilarious and moving." —People 
"Eleanor Oliphant is a quirky loner and a model of efficiency with her routine of frozen pizza, vodka and weekly phone calls with Mummy. [She's] a woman beginning to heal from unimaginable tragedy, with a voice that is deadpan, heartbreaking and humorous all at once." –NPR.org
"Simultaneously hilarious and heartbreaking. . . Eleanor Oliphant may be completely fine, but this book is completely wonderful." --PureWow
"Warm and funny. . . You'll want to read it."—TheSkimm
"Eleanor Oliphant [is] the kind of book you'll want to devour in a single sitting." --Vox
"Warm and uplifting." --POPSUGAR
"Sweet and satisfying, Eleanor Oliphant Is Completely Fine will speak to introverts who have ever felt a little weird about their place in the world." --Bustle
"Eleanor Oliphant is a truly original literary creation: funny, touching, and unpredictable. Her journey out of dark shadows is expertly woven and absolutely gripping." --Jojo Moyes, #1 New York Times bestselling author of Me Before You
"[Eleanor Oliphant Is Completely Fine] made me laugh, it made me cry, and the entire time I beamed with joy at the beauty of this story." –Krysten Ritter, actress, producer, and author of Bonfire
"Move over, Ove (in Fredrik Backman's A Man Called Ove)—there's a new curmudgeon to love. . . Walking in Eleanor's practical black Velcro shoes is delightfully amusing. But readers will also be drawn in by her tragic backstory, which slowly reveals how she came to be so entirely Eleanor. Witty, charming, and heartwarming, Eleanor Oliphant Is Completely Fine is a remarkable debut about a singular woman. Readers will cheer." --Booklist (starred review)
"Astounding." --PopMatters
"Eleanor Oliphant is endearing, [a] whip-smart read. . . a fascinating story about loneliness, hope, tragedy and humanity. Honeyman's delivery is wickedly good, and Eleanor won't leave you anytime soon." --Associated Press

"Honeyman's endearing debut is part comic novel, part emotional thriller, and part love story. . . hilarious, deadpan, and irresistible." --Kirkus Reviews
"[A] captivating debut. . . This is a must-read for those who love characters with quirks." --BookPage
"If you thought Fredrik Backman's Ove was a charming curmudgeon, you'll instantly fall for Eleanor." --Hello Giggles
"The book is wonderfully, quirkily funny. You both ache for Eleanor. . . and laugh with her." --Seattle Times 

"A touching, funny novel." --Minneapolis Star Tribune

"Debut author Honeyman expertly captures a woman whose inner pain is excruciating and whose face and heart are scarred, but who still holds the capacity to love and be loved. Eleanor's story will move readers." --Publishers Weekly
"Deft, compassionate and deeply moving--Honeyman's debut will have you rooting for Eleanor with every turning page. I loved this story." --Paula McLain, New York Times bestselling author of Love and Ruin