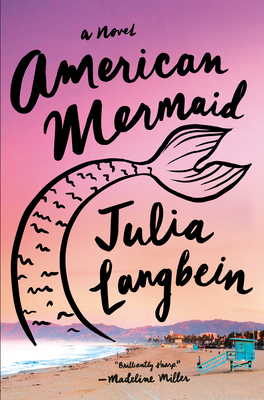 American Mermaid: A Novel
Publication Date:
March 21st, 2023
Available in 3-7 business days
American Mermaidis a total charmer of a novel. A crackling satire of the contemporary book market, and a winning portrait of an artist as a young woman,American Mermaidrides a fine line between hilarity and heartbreak.
April 2023 Indie Next List
Description
A MOST ANTICIPATED BOOK OF THE YEAR • "Sublime." —New York Times Book Review
"Brilliantly sharp, funny, and thought-provoking, the gripping story of a woman trying to find her way in our chaotic world." —Madeline Miller, bestselling author of Circe
Broke English teacher Penelope Schleeman is as surprised as anyone when her feminist, eco-warrior novel American Mermaid becomes a best-seller. But when Hollywood insists she convert her fierce, androgynous protagonist into to a teen sex object in a clamshell bra, strange things start to happen. Is Penelope losing her mind, or has her fictional mermaid come to life, enacting revenge against society's limited view of what a woman can and should be?  
American Mermaid follows a young woman braving the casual slights and cruel calculations of a winner-take-all society and discovering a beating heart in her own fiction: a new kind of hero who fights to keep her voice and choose her place. A hilarious story about deep things, American Mermaid asks how far we'll go to protect the parts of ourselves that are not for sale.
Praise for American Mermaid: A Novel
Named a Most Anticipated Book of the Year by LitHub
"Sublime...Langbein intertwines Penny's story with chapters from her own novel, and this book-within-a-book structure allows us to mourn the gap between the novel Penny has written and the version she's told will make a good movie...Langbein's novel considers how we decide who owns a story — and, far more compelling, how we know when a story succeeds."
—New York Times Book Review
"Let this book's gorgeous and unassuming cover draw you into one of the smartest, most hilarious books you've ever read. Julia Langbein has crafted a perfect work of meta-fiction. . . [AMERICAN MERMAID] is so, so smart, toeing the line of the believably absurd. Langbein dazzles with her wholly original, sharply funny voice, making her a must-read author after this homerun fiction debut."
—Iowa Public Radio

"Wildly inventive, this book will get you thinking about artistic integrity as it elicits plenty of snarf-yourself laughs." 
—Real Simple

"Funny, smart, and irresistible. . . [American Mermaid] is about striving for success, bearing the costs that come with it and finding your  voice again – even when you're the one writing the story. I laughed out loud."
—GMA.com
"Clever. . . Langbein has written a sincere novel about art, Hollywood, sexuality, feminism, global warming, the cultural zeitgeist—and managed to do so while entertaining with a modern voice and a light touch of humor."
—Chicago Review of Books

"[A] hilarious novel [about] something serious: a young woman trying to have her voice heard and find her place in a world that seems bent on diminishing her. This story within a story is a shrewd, sardonic look at Hollywood movie making."
—Associated Press

"A funny debut that asks readers to contemplate ambition and the cost of selling out."
—Zibby Mag

"A comedy of wordplay. A superhero adventure. A Hollywood takedown. A hoot and a half. American Mermaid is all of these, and more. So witty and marvelous you won't be able to put it down. So pick it up!"
—Andrew Sean Greer, Pulitzer Prize winning author of Less Is Lost
"I was hooked from the first page. American Mermaid is brilliantly sharp, funny, and thought-provoking, the gripping story of a woman trying to find her way in our chaotic world."
—Madeline Miller, #1 New York Times bestselling author of Circe and The Song of Achilles
"American Mermaid is shapeshifting novel composed of wildly divergent elements—a biting Hollywood satire, a magical realist book-within-a-book, and a moody meditation on identity and selling out. It probably shouldn't work, but it succeeds brilliantly, thanks to Julia Langbein's tonal control and wicked sense of humor. This is a a debut novel of unusual ambition and scope."
—Tom Perrotta, author of Tracy Flick Can't Win and Mrs. Fletcher
 
"American Mermaid is, like a mermaid herself, a beautiful mix of two things. It is a brilliantly funny and perfectly modern satire, as well as being an elegant exploration of soulfulness, longing and belonging, and the ungovernable wildness of nature herself. I've never read anything quite like it, and I loved it."
—Elizabeth Gilbert, bestselling author of City of Girls
"Every time I picked up this book I both laughed out loud and sighed in admiration. Deeply hilarious, delightfully strange, intricately constructed and remarkably satisfying, American Mermaid is sensational."
—Julia May Jonas, author of Vladimir
"An absolute weirdo masterpiece. With her debut, Julia Langbein pulls off an impressive tonal tightrope walk that would send a lesser writer stumbling to the ground. American Mermaid manages to be so many things at once—a zany and savage satire about Hollywood, a tale of magical realism, and an aching story about what comes after you achieve your dream, how the depths of your ambition can swallow you whole. This novel is both a pleasure to read and signals the arrival of an exciting new writer to watch."
—Jean Kyoung Frazier, author of Pizza Girl
"A salty, sleek and scheming satire, American Mermaid considers dangerous and alluring myths surrounding creative control, compromise and complicity. Told with a caricaturist's energy and dynamism, Langbein's layered narratives gleefully expose Hollywood's ritualized humiliations. Full of skewering, mischievous precision, it is a glittering, baited hook of a novel."
—Eley Williams, author of The Liar's Dictionary
"Filled with wit and more than few laugh-out-loud moments...A downright delightful debut novel."
—Booklist (starred review)