Strangers to Ourselves: Unsettled Minds and the Stories That Make Us (Hardcover)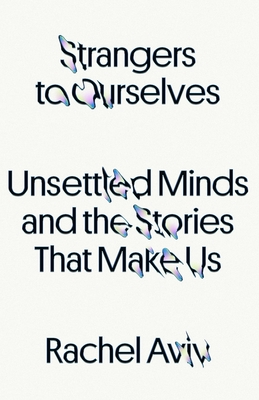 Staff Reviews
---
A deeply reported nuanced portrait of how our culture makes sense of mental illness from New Yorker writer Rachel Aviv. Through her work, Aviv implicitly suggests a perhaps novel approach to mental health care—one that is compassionate, calm, curious and without judgment, one which takes social factors and the history of the field into close consideration. One that champions process over answers. That Aviv does so with incisive prose and stunning detail is icing on the cake. Strangers to Ourselves is a moving, satisfying blend of memoir, reporting, and cultural commentary.
—Allie
— From
Staff Picks
Description
---
The acclaimed, award-winning New Yorker writer Rachel Aviv offers a groundbreaking exploration of mental illness and the mind, and illuminates the startling connections between diagnosis and identity.

In Strangers to Ourselves, a powerful and gripping debut, Rachel Aviv raises fundamental questions about how we understand ourselves in periods of crisis and distress. Drawing on deep, original reporting as well as unpublished journals and memoirs, Aviv writes about people who have come up against the limits of psychiatric explanations for who they are. She follows an Indian woman, celebrated as a saint, who lives in healing temples in Kerala; an incarcerated mother vying for her children's forgiveness after recovering from psychosis; a man who devotes his life to seeking revenge upon his psychoanalysts; and an affluent young woman who, after a decade of defining herself through her diagnosis, decides to go off her meds because she doesn't know who she is without them. Animated by a profound sense of empathy, Aviv's exploration is refracted through her own account of living in a hospital ward at the age of six and meeting a fellow patient with whom her life runs parallel—until it no longer does.

Aviv asks how the stories we tell about mental disorders shape their course in our lives. Challenging the way we understand and talk about illness, her account is a testament to the porousness and resilience of the mind.
About the Author
---
Rachel Aviv is a staff writer at The New Yorker, where she writes about medicine, education, criminal justice, and other subjects. In 2022, she won a National Magazine Award for Profile Writing. A 2019 national fellow at New America, she received a Whiting Creative Nonfiction Grant to support her work on Strangers to Ourselves. She lives in Brooklyn, New York.
Praise For…
---
"Intimate and revelatory . . . attuned to subtlety and complexity . . . This isn't an anti-psychiatry book— Aviv is too aware of the specifics of any situation to succumb to anything so sweeping and polemical . . . a book-length demonstration of Aviv's extraordinary ability to hold space for the 'uncertainty, mysteries and doubts' of others."
—Jennifer Szalai, New York Times

"In writing against the limits of psychiatric narratives, into the space where language has failed, Ms. Aviv paradoxically finds language for the most ineffable registers of human experience. She begins to name correctly what has been named wrongly. For a journalist, as for a psychiatrist, there is no higher achievement."
—Elizabeth Winkler, The Wall Street Journal

"One of the pleasures of this book is its resistance to a clear and comforting verdict, its desire to dwell in unknowing. At every step, Aviv is nuanced and perceptive, probing cultural differences and alert to ambiguity, always filling in the fine-grain details. Extracting a remarkable amount of information from archival material as well as living interview subjects, she brings all of these people to life, even the two whom she never met."
—Jordan Kisner, The Atlantic

"Every attempt at resolution comes with its own pitfalls, which Aviv considers with empathy and analytic perspicacity . . . She is especially sharp in the granular—by focusing on the unique composition of each of these individuals' perceptions, she can show how they change shape as soon as they come into contact with perceptions crafted in the forge of social history."
—Callie Hitchcock, Los Angeles Review of Books

"The strength of Strangers to Ourselves is in its engrossing case studies, which contribute vivid anecdotes to this ongoing conversation about the complex and perplexing nature of the mind . . . as typically excellent as Aviv's magazine journalism, viscerally rendered and thoughtful portraits that slide into meditations on the mind."
—Kate Knibbs, Wired

"Written with an astonishing amount of attention and care . . . Aviv's triumphs in relating these journeys are many: her unerring narrative instinct, the breadth of context brought to each story, her meticulous reporting. Chief among these is her empathy, which never gives way to pity or sentimentality."
—Charlotte Shane, Bookforum

"Vivid, wrenching, and ambitiously researched. . . Strangers to Ourselves showcases [Aviv's] mastery of psychological portraiture."
—Sally Satel, The Washington Post

"A beautifully written, profoundly researched narrative . . . Each time I try to describe it to someone, I stumble over words until I finally land on 'You just have to read it.'"
—Mia Armstrong-Lopez, Slate

"Sublte and penetrating . . . Aviv is an instictive storyteller . . . Her own language is meticulous, empathetic, tirelessly inquisitive . . . Despite—or perhaps because of—her rigour, she also dares to acknowledge facets of identity that elude any theories of the mind currently available to us and to engage with profound mystery . . . [Aviv approaches] mental illness with such humility and kinship and her complex, illuminating book is all the stronger for it."
—Hephzibah Anderson, The Guardian

"Profoundly intelligent . . . Superbly written portraits of five people who sit at the crossroads of alternative explanations for their pain."
—David Shariatmadari, The Guardian

"Tremendous . . . [Strangers to Ourselves] casts hard insights into the mutability of therapy."
—Chicago Tribune

"Strangers to Ourselves is a subtle, deft, and fascinating look at mental illness in America . . . I am impressed by Aviv's deft manipulation of studies, academic treatises, doctor's notes, and interviews, but I am moved by her commitment to weaving uncertainty, mystery, and devotion into these narratives as well."
—Hannah Gold, Gawker

"Aviv champions . . . a novel kind of mindfulness: a recognition of which frameworks we use to understand mental illness, and a search for frameworks that best serve who we want to become . . . Aviv makes a powerful case for locating storylines that uplift and transform."
—Elizabeth Svoboda, Undark

"The potential meanings of psychiatric diagnosis refract out and away from one another like light from a prism–a benchmark to guide treatment, a numeric code on a health insurance document, a pretense to enact violence on the vulnerable–but for Aviv, they are stories, first and foremost, sizzling with equal potential to heal or to harm."
—Astra Magazine

"Combining the cool poise of Janet Malcolm and the confessional bravery of Joan Didion, journalist and New Yorker staff writer Rachel Aviv challenges the way we think about mental illness . . . The result is a fascinating and empathetic look at the mysterious ways our minds can fail us."
—Taylor Antrim, Vogue

"A work of fierce moral intelligence. In withholding judgment and letting her subjects speak for themselves, Aviv grants them the dignity that society has often denied."
—Rhoda Feng, Vulture

"Known for bringing empathy and an uncanny depth of perception to her reporting on those who exist in the margins, Aviv shines a light on stories of abuse, neglect, mental disorders, and social injustice. She helps readers understand the complex humanity of people who may otherwise be dismissed, seeing past labels and preconceptions so we can connect on a deeper level."
—Shondaland

"A sharp, compassionate and necessary investigation, not to be missed."
—Bookpage

"[Aviv's] searing Strangers to Ourselves is a revelation of literary journalism and medical research . . . There are radical lessons to learn here, Aviv suggests, if we only open our eyes."
—Oprah Daily

"This eye-opening examination makes for a valuable addition to modern discourse around mental illness."
—Publishers Weekly

"In examining the way we tell stories about disorders of the mind, Aviv questions the very core of what is normal and what is reality. An incredibly researched, empathetic, and moving book."
—Emily Firetog, Lit Hub

"Perceptive and intelligent . . . Aviv applies her signature conscientiousness and probing intellect to every section of this eye-opening book. Her profiles are memorable and empathetic . . . Aviv treats her subjects with both scholarly interest and genuine compassion . . . A moving, meticulously researched, elegantly constructed work of nonfiction."
—Kirkus Reviews (starred review)

"Strangers to Ourselves is relentlessly faithful to complexity, absolutely unsettling in all the best and most important ways. If, as James Baldwin writes, "the purpose of art is to lay bare the questions hidden by the answers," then Aviv's reportage becomes literature; not just because of the nimble pivots in her prose, the way her syntax unseats our expectations as deftly as her stories do, but because of her restless integrity. Louise Gluck describes anorexia as an attempt "to construct a plausible self,' and Aviv explores her subjects not as diagnoses but as fully dimensional characters—full of yearning, self-questioning, heartache, savvy, and hope—trying to construct plausible selves through and despite their experiences of what we call mental illness, inside social landscapes shaped by injustice and inequality. Aviv is attentive to the nuances and tendrils of their interior lives—the moments where their experiences refuse to conform neatly to the narratives they've been described by. What other writers treat as easy conclusions, Aviv treats as doorways—stepping through them into a more rugged wilderness of truth on the other side."
—Leslie Jamison, author of Make it Scream, Make it Burn

"In this penetrating, landmark book, Rachel Aviv investigates what she calls the 'psychic hinterlands,' drawing on her customary vivid reporting and her own extraordinary personal story to pose unsettling questions about the ways in which we reckon with mental illness by categorizing it, diagnosing it, giving it a name. Threading together the intimate and emotionally shattering stories of a series of very different people who have struggled to live with and to understand their own psychological afflictions, Aviv has created an arresting work of profound empathy and insight."
—Patrick Radden Keefe, author of Say Nothing and Empire of Pain

"Master prose stylist Rachel Aviv quietly explodes our neat narratives as she rescues the radiant meanings of lives formed in extremity, including her own. Breaking away from labels that have the power to create the futures they foretell, her case histories are kaleidoscopic, filled with sudden radiance and uncomfortable discontinuities that in the end, force forward profound questions about what is real. Brilliant."
—George Makari, MD, author of Of Fear and Strangers: A History of Xenophobia, director of the DeWitt Wallace Institute of Psychiatry, Weill Cornell Medical College

"A groundbreaking, paradigm-shifting exploration of the relationship between diagnosis and identity. This is the kind of book that can make your life flash before your eyes, glittering with new insights and a sense of unguessed possibilities."
—Elif Batuman, author of Either/Or and The Idiot

"Writing with uncanny empathy and integrity, Rachel Aviv illuminates the ways that culture shapes our perceptions of mental illness and who is deserving of care. Strangers to Ourselves is a work of landmark reporting that is truly heartbreaking and astonishing."
—Cathy Park Hong, author of Minor Feelings: An Asian American Reckoning

"Aviv writes with an unpredictable mixture of intimacy and distance, exploring how psychiatric language often alters what it names. She has assembled a remarkable archive of unpublished materials—memoirs, poems, journals (including her own)—that offers a visceral counterpoint to the official languages of institutions and expertise. I admire her rigor and eloquence but also her restraint—she makes vivid experiences we can't explain."
—Ben Lerner, author of The Topeka School

"A heartfelt plea for a return to detailed storytelling as an element in mental health care and, within the stories, attention to context: the factors like culture, class, race, religion, family customs, idiosyncratic experience, and private dreams and ambitions that shape lives and illnesses."

—Peter Kramer, author of Listening to Prozac