Shadow Tag: A Novel (Paperback)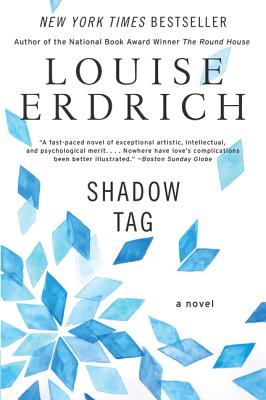 Description
---
"Gripping. . . a hushed and haunting tale." — USA Today
A stunning tour-de-force from award-winning and New York Times bestselling author Louise Erdrich. Shadow Tag fearlessly explores the complex nature of love, the fluid boundaries of identity, and the anatomy of one family's struggle for survival and redemption.
When Irene America discovers that her artist husband, Gil, has been reading her diary, she begins a secret Blue Notebook, stashed securely in a safe-deposit box. There she records the truth about her life and marriage, while turning her Red Diary—hidden where Gil will find it—into a manipulative charade. As Irene and Gil fight to keep up appearances for their three children, their home becomes a place of increasing violence and secrecy. And Irene drifts into alcoholism, moving ever closer to the ultimate destruction of a relationship filled with shadowy need and strange ironies.
About the Author
---
Louise Erdrich, a member of the Turtle Mountain Band of Chippewa, is the author of many novels as well as volumes of poetry, children's books, and a memoir of early motherhood. Her novel The Round House won the National Book Award for Fiction. Love Medicine and LaRose received the National Book Critics Circle Award for Fiction. Erdrich lives in Minnesota with her daughters and is the owner of Birchbark Books, a small independent bookstore. Her most recent book, The Night Watchman, won the Pulitzer Prize. A ghost lives in her creaky old house.
Praise For…
---
"Gripping…a hushed and haunting tale." — USA Today
"A fearless portrait of a marriage in free fall." — Vogue
"A portrait of an 'iconic' marriage on its way to dissolution…Erdrich's unbridled urgency yields startlingly original phrasing as well as flashes of blinding lucidity." — New York Times Book Review
"A searing, personal examination of one family that's falling apart…SHADOW TAG is compelling, a bleak exploration of the ties of blood and marriage." — Miami Herald
"Clear, urgent, deep as a swift river…Shadow Tag accomplishes the literary miracle of making a reader ravenous to finish it, while stinging with regret at how soon it must end." — San Francisco Chronicle
"A masterpiece…a captivating work of fiction…exquisite…tightly focused…arresting. . . . This profoundly tragic novel captures that lament in some of Erdrich's most beautiful and urgent writing." — Ron Charles, Washington Post
"The intensity of this exquisite, character-driven tale, its searing efficiency in encompassing the painful legacy of the Native American genocide, and its piercing insights into sex, family, and power are breathtaking. . . . A masterfully concentrated and gripping novel of image and conquest, autonomy and love, inheritance and loss." — Booklist (starred review)
"Erdrich offers a portrait that's convincing…Shadow Tag is wonderfully, painfully readable and revealing." — Minneapolis Star Tribune
"A domestic drama that builds an almost thriller-like momentum. . . . A novel as dark and tragic as it is difficult to put down" — San Diego Union-Tribune
"A page-turner…a most compelling novel" — Dallas Morning News
" A fierce novel…raw…alive…vividly present…it marks a breakthrough for the author." — Columbus Dispatch
"Muscular and fearless…It is [Erdrich's] superb telling of this story that makes it real, her stellar writing that brings powerful truth to invented worlds." — BookPage
"A fast-paced novel of exceptional artistic, intellectual, and psychological merit…Nowhere have love's complications been better illustrated than in the raw honesty of Shadow Tag." — Boston Sunday Globe
"Hard to put down. . . . It builds to a spectacular ending with a twist I didn't see coming. . . . Erdrich has taken a tragedy and turned it into art." — Philadelphia Inquirer
"A brilliant cautionary tale…Reading it is like watching a wildfire whose flames are so mesmerizingly beautiful that it's almost easy to ignore the deadly mess left behind." — Library Journal
"Into this deeply personal novel about marriage, family and individual identity, Erdrich weaves broader questions about cause and effect in history...A small masterpiece of compelling, painfully moving fiction." — Kirkus Reviews (starred review)